RFE/RL: Azerbaijan has close ties with the United States. Does this hurt relations between Iran and Azerbaijan?
Nasir Hamidi Zare: Neither Azerbaijan's relations with other countries nor our relations with other countries limit our bilateral ties. During past meetings with Ilham Aliyev, he has stated that Azerbaijan is interested in having close, neighborly, friendly relations with Iran. Azerbaijan has demonstrated its stance on this issue. Our president, [Mahmud] Ahmadinejad, has said we are open to bigger and better relations with Azerbaijan.
RFE/RL: Will Iran's recent difficulties with the international community be discussed during Ahmadinejad's visit to Baku?
Zare: This trip is meant to discuss issues of mutual cooperation. Other issues, of course, will be discussed as well. Presidents never limit the scope of their discussions to a narrow agenda. But, of course, the most important issue in Baku will be improving bilateral relations.
RFE/RL: Can Azerbaijan serve as a mediator in helping to improve relations between the United States and Iran?
Zare: When our president traveled to the United States [in September 2005], he said he was ready for dialogue. But if one side doesn't want to change its position, what can Azerbaijan do about it? Despite all the scandalous reports you see in the newspapers and on television, we hear that the American people, and the highest levels of American government, want to have sincere and close relations with Iran. If you put all the bad press aside, you see that there are logical people in every country. Of course, policies are decided by governments, but nothing can stop people from having good relations.
RFE/RL: How do you view the U.S. role in Iraq?
Zare: The United States is now living in an era of coalition. I don't think America is a unilateral power anymore. The coalition is getting weaker and the occupation isn't working. You can see that the Islamic Republic of Iran is cooperating on Iraqi issues. You can see that they [the U.S.-led coalition] is backing off.
RFE/RL: What is your stance on the Azerbaijani-Armenian conflict?
Zare: It's our stated policy that we support Azerbaijan's territorial integrity and will continue to do so. Azerbaijan is a neighbor and a Muslim state, and of course this relationship is more important for us than our relations with other countries. Azerbaijan is taking steps to resolve this conflict. We'd like to see the conflict resolved -- that refugees go back to their homes, that they receive compensation. This is my personal opinion, but it also reflects the position of the Islamic Republic of Iran. This occupation should be condemned.
RFE/RL: Are you concerned by talks on whether the United States will use the Qabala radar station in Azerbaijan as part of its missile-defense shield? Will this issue be discussed during Ahmadinejad's visit?
Zare: The Azerbaijani people and the Azerbaijani government should be more concerned about this issue than we are. Russia and the United States act like the state of Azerbaijan doesn't even exist when they negotiate on the issue. But when you take Azerbaijan's sovereignty and independence into account, you have to look at this policy from a different point of view. You know that, and we know that. Our history has been marked by many events that I'm not going to discuss now. But we're watching [talks on Qabala] very carefully and sensitively. Because we see peace and stability in Azerbaijan as peace and stability in Iran. And if others would like to play games in the name of security, neither the state of Azerbaijan nor its people will accept it. The question is being discussed between two countries, Russia and the United States. What aspect of the issue can we discuss here in Baku? Everyone knows this is a sensitive subject. All the necessary exchanges of opinion will be made during our talks.
Avoiding International Isolation
Avoiding International Isolation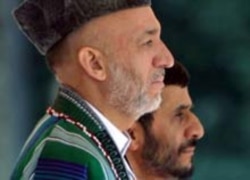 Afghan President Hamid Karzai (left) with Iranian President Mahmud Ahmadinejad in Tehran on May 27 (epa)
DIPLOMATIC OFFENSIVE:
As the United States and the European Union increase pressure on Iran regarding its nuclear program, Tehran has launched a wide-ranging and ambitious diplomatic offensive, including high-level state visits with countries including China, Indonesia, Afghanistan, Azerbaijan, and Pakistan. In May, Iranian President Mahmud Ahmadinejad participated in a high-profile
summit of the so-called Developing 8 (D8) group
of countries in Bali. Below are some links to RFE/RL's coverage of Iran's efforts to boost international support for its position.
Tehran's Shanghai Plans Seen As Bold Geopolitical Stroke
Nonaligned Movement Expresses Support For Iran
Afghan, Iranian Presidents Tout Strong Historical Ties
Iranian Foreign Minister In Pakistan For Energy Talks
Iranian Foreign Minister Visits Baghdad
ARCHIVE
To view all of RFE/RL's coverage of Iran, click here.

THE COMPLETE STORY: RFE/RL's complete coverage of controversy surrounding Iran's nuclear program.