The SCO member presidents will be joined by Iranian President Mahmud Ahmadinejad (his second summit) and Mongolian President Nambaryn Enkhbayar as well as Pakistani Foreign Minister Khurshid Kasuri and Indian Oil and Gas Minister Murli Deora, all representing countries that have "observer" status in the SCO.
High-Level Attendees
In addition, Afghan President Hamid Karzai -- a regular at SCO summits since 2004 -- and Turkmen President Gurbanguly Berdymukhammedov as well as UN Undersecretary-General Lynn Pascoe will be at the summit.
"I think the key thing to remember with the Shanghai Cooperation Organization as a whole is that this is one region where close cooperation is not really building deeper trust between the countries involved."
The list of dignitaries testifies to the SCO's growing influence in Asian affairs. SCO summits have already drawn international attention, such as the 2005 summit in Astana, Kazakhstan, when SCO leaders called for the United States to set a timetable for the departure of its troops stationed in Central Asia.
U.S. troops were using a base in southern Uzbekistan for operations in Afghanistan in 2005, but relations between the United States and Uzbekistan plummeted after Uzbek troops violently suppressed demonstrators in the Uzbek city of Andijon just weeks before the summit. Backed by the SCO's call for a U.S. timetable to leave Central Asia, the Uzbek government told Washington to remove its troops, which it did a few months later.
This year's summit also promises to bring some big announcements. Stephen Blank, a professor of national security studies at the U.S. Army War College's Strategic Studies Institute who has written extensively on the SCO, gave RFE/RL an idea of what could be on the agenda for the Bishkek SCO summit.
Possible Agenda
"I think that they're going to try to expand the membership and write a new charter for the organization," Blank said. "I think that they're going to want to bring Turkmenistan into the operation if it wants to join. Second, I think they are going to write a new charter that will probably be even more anti-American than before. I'm not sure that India, Iran, Pakistan, or Mongolia will become members. If you take India, they are going to have to [accept] Pakistan, that would have to be a compromise. Iran is another question altogether, and I'm not sure that Iran is going to be admitted as a member, although Iran certainly wants it. But I would concentrate on three things: One is the membership; one is the new charter; and I'd also expect the Russians to push the idea of an energy organization, the gas cartel, which [Russian President Vladimir] Putin has been pushing throughout the year. I think that he's going to make a major effort to push that further at the Bishkek summit as well."
The invitation for Turkmenistan to participate in the SCO -- and Berdymukhammedov's acceptance -- is already one of the big stories of the Bishkek summit. Berdymukhammedov only became Turkmen president in February, two months after the eccentric Saparmurat "Turkmenbashi" Niyazov died.
A New Policy For Turkmenistan?
Under Niyazov, Turkmenistan practiced a foreign policy of "positive neutrality" that prohibited it from joining any organization with a military or even counterterrorism facet to it. Turkmenistan is the only one of the 12 Commonwealth of Independent States (CIS) to have only "associate" status in the CIS.
But Blank and others have noted that under Berdymukhammedov Turkmenistan has a more "robust" foreign policy that has already led to new gas deals with Russia and Kazakhstan and brought about a rapprochement with Caspian rival Azerbaijan.
If Putin is indeed going to seek a gas cartel similar to OPEC during the SCO summit, then it makes sense to include Turkmenistan, home to some of the largest deposits of natural gas in the world. Kazakh President Nursultan Nazarbaev and Uzbek President Islam Karimov, whose countries have significant gas reserves, will be attending the summit.
The Kremlin said today that the creation of an "energy club" among SCO members would be on the agenda.
Fitting into that issue nicely was a request by Kyrgyz Prime Minister Almazbek Atambaev to Chinese President Hu Jintao to consider using Kyrgyzstan as a transit route for natural gas exports to China.
"[The Chinese] are saying that they want to transit the Turkmenistan gas," Atambaev said. "We have asked them to transit the pipeline through our [country] because then we would not be looking at just one gas supplier. Then, both Uzbek and Turkmen gas would be available to us from both sides."
Tajik President Emomali Rahmon may be making the same proposal for his country to Hu at the Bishkek summit.
Seeking SCO Membership
Admitting Turkmenistan to the SCO could be more difficult. Mongolia, Pakistan, and India have been requesting full membership for years and Iran was not far behind in asking for membership. Those four are "observer" countries and, prior to the Bishkek summit, officials in Russia and China -- the SCO's prime movers -- have repeatedly said there will be no new members admitted in Bishkek on August 16.
Most recently, Russian Deputy Foreign Minister Andrei Denisov told the Russian daily "Vremya Novostei" in an interview today that relations between current members still need to be strengthened. But in the same interview, Denisov said that "in principle" Turkmenistan could ask to join the SCO and that the SCO has "an objective interest in Turkmenistan as a state in the region."
The most likely route for Turkmenistan would be receiving observer status as Uzbekistan did in 2000 before becoming a full member the following year.
Reports from Iran indicate that Ahmadinejad is going to Bishkek to convince the SCO to admit his country as a full member.
The Problem With Admitting Iran
Blank noted Iran's desire to join the SCO but he also said the SCO's mutual-defense treaties are a main reason why Iran's membership in the SCO is not likely to happen anytime soon.
"Iran would probably use this as an attempt to invoke the treaty charter for self-defense if an American or some other attack came against it and the Russians have already made it clear that they would be neutral; they would not intervene in an American military attack on Iran, although they oppose it strongly," he said. "So taking Iran into the organization creates some difficulties on a very significant level."
Afghan President Karzai's personal attendance seems likely to be rewarded with a call to hold an international conference on Afghanistan under the aegis of the SCO.
The summit is also expected to result in a joint statement pledging continued friendship among SCO countries. On August 17, the six SCO leaders are due to fly to Russia's Chelyabinsk region to watch the closing stage of the SCO's "Peace Mission-2007" counterterrorism exercises, which have been under way since August 9.
SCO countries cooperate in many spheres, including cultural, communications, economics and banking, judicial, security, and others. But it is the SCO's growing cooperation in the military sphere that has made some apprehensive.
Is the SCO the "rising beast in the East" -- an Asian counter to NATO? Some analysts question how solid the ties are that bind the SCO members and others question whether the organization is useful to all of its members.
'Fundamental Distrust'
Duncan Innes-Ker is an analyst on China at the London-based Economist Intelligence Unit. He told RFE/RL there are suspicions among SCO members.
"I think the key thing to remember with the Shanghai Cooperation Organization as a whole is that this is one region where close cooperation is not really building deeper trust between the countries involved," he said. "There is still, at the root, a fundamental mistrust among the members of the cooperation group and that mistrust about the intentions of Russia -- of China particularly -- amongst the smaller members of the group is really the key flaw in this organization."
China has occupied a place in Central Asia's history for thousands of years and it has not always been a place Central Asian historians have recorded fondly.
Russia is a relatively more recent arrival in Central Asia but is the country that has exercised the greatest influence over the region for the last two centuries. The Central Asian states are in alliances with Russia, the CIS for example. But other groupings within the CIS are perhaps the greatest rival to the SCO when it comes to the loyalty of the Central Asian states that are also SCO members.
Dosym Satpaev is the director of the Almaty-based Risks Assessment Group and he explained to RFE/RL that the SCO is something of a redundancy for Central Asia.
"The SCO now is coming unwound, because in the military sphere the SCO has competition from the CSTO (the CIS's Collective Security Treaty Organization) and -- in the economic sphere -- also the SCO has competition from the Eurasian Economic Community (EEC)," he said. "Therefore the SCO needs to propose something new and interesting to interest the countries of Central Asia."
Shanghai's Competition
The four Central Asian countries that are SCO members are also members of the CSTO, along with Russia, Armenia, and Belarus, and the four are also members of the EEC along with Russia and Belarus.
It is unclear, for example, if a large terrorist attack took place in Central Asia, would the CSTO or the SCO have jurisdiction in aiding the affected country? If the SCO does agree to emphasize controls over producing and exporting energy resources, like natural gas, how does that affect Belarus, a country in the EEC that is not a SCO member?
There is another concern specific to Kyrgyzstan and President Kurmanbek Bakiev, whose country has always been viewed as the most democratic in the region.
Bakyt Beshimov is currently a professor and the vice president of the American University in Central Asia, located in Bishkek and formerly Kyrgyzstan's ambassador to India. Beshimov told RFE/RL that Bakiev needs to make clear that Kyrgyzstan's domestic reforms cannot be influenced by other SCO members.
"At present, among the members of the Shanghai Forum only Kyrgyzstan is regarded as an open state with a path of democratic development," Beshimov said. "That is why Kyrgyzstan's political leadership has to openly and precisely state Kyrgyzstan's achievements and its fundamental path towards democracy during such summits."
The SCO is likely to continue to grow, in terms of membership and in terms of influence in Asia and the wider world. But it also seems likely that serious cracks in the organization will become more visible at the same time.
Shanghai Cooperation Organization
Shanghai Cooperation Organization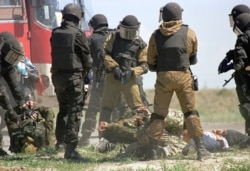 Soldiers conducting the first-ever SCO joint antiterrorism exercises, held in Kazakhstan in August 2003 (TASS)

NATO'S EVIL TWIN? At an August 3 briefing at RFE/RL's Washington,D.C., office, Central Asia experts Richard Weitz and Daniel Kimmage discussed the emergence of the Shanghai Cooperation Organization (SCO), a multilateral body that comprises Russia, China, Kazakhstan, Kyrgyzstan, Tajikistan, and Uzbekistan. In addition, Iran, Pakistan, Mongolia, and Afghanistan have observer status in the organization.
LISTEN
Listen to the entire briefing (about 75 minutes):

Real Audio
Windows Media
RELATED ARTICLES
U.S. Wary Of Shanghai Grouping
Unified Message Emerges From Shanghai Summit
Shanghai Cooperation Organization Mulls Expansion
China-Russia Bloc Challenges U.S. In Region


THE COMPLETE STORY: Click on the icon to view a dedicated webpage bringing together all of RFE/RL's coverage of Kazakhstan, Kyrgyzstan, Tajikistan, Turkmenistan, and Uzbekistan.