The billboard replaced a cheery portrait of Kyrgyz President Kurmanbek Bakiev shaking hands with Russian President Vladimir Putin, which served as a symbol of Bishkek's pro-Russian foreign policy.
Two leading Russian-language newspapers in Kyrgyzstan -- "Vecherniy Bishkek" and "Delo No." -- recently published similar articles suggesting that the United States might have organized a June espionage scandal in Bishkek, in which parliament employee Jypargul Arykova was arrested after being accused of spying for China. The articles claimed that Washington might have an interest in damaging relations among SCO members ahead of the summit.
"...To have [such relations with Moscow] while damaging or creating a difficult situation [with other countries] is the wrong thing, it's a folly."
Indeed, the espionage accusations against Beijing clearly will not have improved Kyrgyz-Chinese relations, but many wonder why these largely pro-Bakiev newspapers are looking for the organizers of this scandal in Washington.
Kyrgyz presidential spokesman Nurlan Shakiev said he had not seen the Russian-language articles.
"The National Security Service is working on the case, [and] they can answer your question," Shakiev told RFE/RL's Kyrgyz Service when asked about the reports. "Since I haven't read those articles, I guess it's not good if I comment on them."
Rumors Abound
Oleg Panfilov, director of the Moscow-based Center for Journalism in Extreme Situations (CJES), says it's strange to look for an outside provocateur in the espionage case because the suspected spy was arrested by the Kyrgyz state security service, and it must have serious legal reasons for making such an arrest and connecting it to China.
Panfilov suggests that if official Bishkek is not aware of the accusations in the Kyrgyz newspapers then maybe the idea to blame Washington for the scandal comes from Moscow.
"Actually, such an impression [about a Moscow link to the accusation of U.S. involvement] exists," Panfilov says. "I don't know about these [two] newspapers, but we know that in Central Asia the so-called Russian Foundation of the Institute for Democracy has contracts with several Tajik newspapers [publishing in Russian] and I know there are such cases [of such connections] in Kyrgyzstan, also. And really, when they publish their articles you can read in most of them the same propagandistic ideas that you usually see in the newspapers in Russia."
But the "anti-U.S." articles contradict very little with Bishkek's general foreign policy.
Kyrgyz Path
Kyrgyz President Bakiev had been trying hard to show President Putin and the other leaders in Central Asia that he didn't come to power during the Tulip Revolution in a movement backed by the West, as some claim.
A desire to distance himself from such a link to the West may also be why he has often publicly raised the question of increasing the rent payments for the U.S. air base at Manas, outside of Bishkek.
Edil Baisalov, a prominent Kyrgyz politician and political analyst, says Bakiev has been actively trying to show that he is not to be grouped with the leaders of other "color revolutions."
"Bakiev and his administration have been trying hard to prove that it wasn't a revolution prepared by the United States," Baisalov says. "That's why in 2005-06, and even now, he says 'I'm not [Georgian President Mikheil] Saakashvili, and I'm not [Ukrainian President Viktor] Yushchenko.' He is trying very hard, we all see it."
Though the issue of U.S. rent payments for Manas Air Base was a big issue, the matter of Moscow paying for the use of its air base at Kant was not an issue.
Kyrgyz parliament speaker Marat Sultanov said at a press conference in Bishkek after visiting Moscow in May that Kant is not a Russian base at all, but "ours [Kyrgyz]," so the question of asking for rent does not exist. He added: "our friends in Moscow say we should decide about the U.S. air base by ourselves."
The future of U.S. troops at Manas is not on the official agenda of the SCO summit in Bishkek. But that doesn't mean it won't be an issue.
At its summit in July 2005, SCO leaders called on the United States to set a timetable for its withdrawal from military bases in Central Asia, as the issue of U.S. troops in the region was discussed in terms of a regional security problem.
On the ground in Bishkek, it was noted that Kyrgyz police broke up a small demonstration at the U.S. Embassy on July 30 in support of keeping U.S. forces at Manas. The picket was organized by the Kyrgyz nongovernmental organization Democracy, and one of its activists, Alisher Islam, was detained by police for three days.
Meanwhile, well-organized protests against the American presence at Manas -- with some demonstrators being brought in on buses -- have been held several times in recent months and were not disturbed by the police.
Cozy With Moscow
Yet the strongest pro-Russian statement came from former Prime Minister and current opposition leader Feliks Kulov, who returned from a Moscow visit this spring calling for Kyrgyzstan to join a confederation with Russia. His opposition movement is now collecting signatures so that a referendum can be held on the issue.
It is not clear how much support exists for such a confederation. There are, however, hundreds of thousands of Kyrgyz working in Russia and, as the Kyrgyz State Migration Committee reported recently, some 50,000 of them received Russian citizenship in the past year.
But many of those interviewed by RFE/RL's Kyrgyz Service say they would actively work against any attempt to cede Kyrgyzstan's independence to a confederation. Several of them -- like Bishkek-based political analyst Bakyt Beshimov -- are not happy with Kyrgyzstan's current foreign policy and its strong orientation towards Russia.
"It would be right to say that nowadays the foreign policy of the Kyrgyz government is very obscure," Beshimov says. "Because they are mainly quietly following whatever Russia says, that is their policy. On the one hand, Russia is a strategic country for us; we should have good, proper, and fruitful relations with Russia. But on the other hand, to have [such relations with Moscow] while damaging or creating a difficult situation [with other countries] is the wrong thing, it's a folly."
(RFE/RL Kyrgyz Service correspondent Zeinep Altymyshova contributed to this report from Bishkek.)
Shanghai Cooperation Organization
Shanghai Cooperation Organization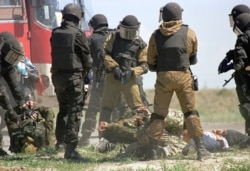 Soldiers conducting the first-ever SCO joint antiterrorism exercises, held in Kazakhstan in August 2003 (TASS)

NATO'S EVIL TWIN? At an August 3 briefing at RFE/RL's Washington,D.C., office, Central Asia experts Richard Weitz and Daniel Kimmage discussed the emergence of the Shanghai Cooperation Organization (SCO), a multilateral body that comprises Russia, China, Kazakhstan, Kyrgyzstan, Tajikistan, and Uzbekistan. In addition, Iran, Pakistan, Mongolia, and Afghanistan have observer status in the organization.
LISTEN
Listen to the entire briefing (about 75 minutes):

Real Audio
Windows Media
RELATED ARTICLES
U.S. Wary Of Shanghai Grouping
Unified Message Emerges From Shanghai Summit
Shanghai Cooperation Organization Mulls Expansion
China-Russia Bloc Challenges U.S. In Region


THE COMPLETE STORY: Click on the icon to view a dedicated webpage bringing together all of RFE/RL's coverage of Kazakhstan, Kyrgyzstan, Tajikistan, Turkmenistan, and Uzbekistan.