The maneuvers begin in China and then move to Russia, where they will conclude on August 17.
The troops will be backed up by 80 warplanes and combat helicopters in the SCO's largest counterterrorist exercise, dubbed Peace Mission 2007.
The nine days of drills will take place in China's western Xinjiang Uyghur Autonomous Region and Russia's Chelyabinsk Oblast.
Regional Cooperation
The SCO was founded in 1996 as an effort between China, four Central Asian countries (Kyrgyzstan, Kazakhstan, Uzbekistan, Tajikistan), and Russia to develop confidence-building measures along their common border and permit troop reductions.
The organization has greatly expanded its scope and the exercises that start this week are the latest sign of the growing cooperation among SCO members.
China analyst Duncan Innes-Ker at the Economist Intelligence Unit in London says that the fight against terrorism has become one of the major aspects of cooperation for the SCO. "The fight against Islamic terror groups is one of the few strands that really does sort of bind the cooperation group together fairly strongly," he notes.
The SCO started truly focusing on counterterrorism in 1999. That year, the SCO summit was in the Kyrgyz capital, Bishkek, and at the time the summit was held Kyrgyz forces were fighting Islamic militants in the southern part of the country. China was conducting a crackdown on Muslim Uyghur separatists in the western Xinjiang Region and Russia was on the eve of starting the second Chechnya war of the 1990s.
Matthew Clements, the Eurasia editor for the country risks section of the London-based Jane's Information Group, says these exercises and previous ones were planned while envisaging problems that could occur in Central Asia.
"I think that's the key area where they think this sort of instability is going to be arising, especially in terms of drug trafficking, obviously, Central Asia is a hub for Afghan opium," Clements says. "And, also, in terms of [Central Asia's] Ferghana Valley, there are concerns about stability on Russia's southern flank or China's western flank."

Bigger Than Needed?
But Clements does note that the scale of Peace Mission 2007 seems slightly excessive for counterterrorism drills, though he believes that may be due to a desire for better cooperation between the SCO militaries.
Chinese troops exercising on August 7 ahead of the SCO mission (ITAR-TASS)"I think one of the key things in involving this many troops and this many people is in order to get these other participants involved and to create a big exercise [being done] to increase political cooperation between the countries involved."
But the size of these exercises has led some to speculate that they are not aimed solely at terrorist groups. Stephen Blank is a professor of national security studies at the Strategic Studies Institute of the U.S. Army War College. In views that he stressed are solely his own and do not necessarily reflect the opinions of the War College or the U.S. Defense Department, Blank commented on the scope of the SCO military exercises.
"The size of these exercises is growing and many experts do not believe that they are confined only to so-called antiterrorist activities or even just to Central Asia," Blank says. "The August 2005 Sino-Russian exercises, which were conducted under the auspices of the SCO, were so large and so thoroughly combined arms and major-theater conventional warfare in their approach that people believed these were aimed as much at Taiwan and Korea as they were at any potential Central Asian contingency."
One fact that supports Blank's comments is that the bulk of forces in Peace Mission 2007 are from Russia and China, with Kazakhstan, Tajikistan, and Kyrgyzstan reportedly contributing small numbers of troops and Uzbekistan sending only observers to the maneuvers.
Counterterrorism Or Counterrevolutionary?
Blank notes that SCO agreements on mutual assistance in the event of a terrorist threat have not thus far been invoked by any of the organization's members.
But Blank points to the so-called Tulip Revolution in Kyrgyzstan in 2005 -- when crowds of demonstrators chased former Kyrgyz President Askar Akaev from power -- as having prompted increased efforts at SCO military cooperation in an effort to prevent a repeat of such events in other member states.
"At least hypothetically, there are grounds for thinking that something like [a terrorist attack or insurgency] could happen," he says. "I think it would happen if you had an uprising against the government and I think what galvanizes this on the part of China and Russia is that they were not able to do anything on behalf of Kyrgyzstan in 2005 and they've resolved never to be caught short again."
The SCO holds its summit on August 16, ironically, in Bishkek, where the SCO's focus on counterterrorism first took shape eight years ago. The military exercises in Russia will be winding down as the SCO leaders meet.
Shanghai Cooperation Organization
Shanghai Cooperation Organization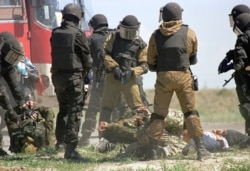 Soldiers conducting the first-ever SCO joint antiterrorism exercises, held in Kazakhstan in August 2003 (TASS)

NATO'S EVIL TWIN? At an August 3 briefing at RFE/RL's Washington,D.C., office, Central Asia experts Richard Weitz and Daniel Kimmage discussed the emergence of the Shanghai Cooperation Organization (SCO), a multilateral body that comprises Russia, China, Kazakhstan, Kyrgyzstan, Tajikistan, and Uzbekistan. In addition, Iran, Pakistan, Mongolia, and Afghanistan have observer status in the organization.
LISTEN
Listen to the entire briefing (about 75 minutes):

Real Audio
Windows Media
RELATED ARTICLES
U.S. Wary Of Shanghai Grouping
Unified Message Emerges From Shanghai Summit
Shanghai Cooperation Organization Mulls Expansion
China-Russia Bloc Challenges U.S. In Region


THE COMPLETE STORY: Click on the icon to view a dedicated webpage bringing together all of RFE/RL's coverage of Kazakhstan, Kyrgyzstan, Tajikistan, Turkmenistan, and Uzbekistan.