China is quickly becoming one of the biggest consumers of Kazakh oil and Nazarbaev will be anxious during his trip to ensure his hosts that his country can help sate Beijing's thirst for energy.
The Kazakh president's visit to China is a further demonstration of the rapidly growing economic ties between the two countries.
Growing Ties
Sharipbek Amirbekov is an adviser to Kazakhstan's Otan party, the Kazakh ruling party created to support Nazarbaev. He explained to RFE/RL's Kazakh Service the importance to Astana of good ties with Beijing.
"China has its own place in this political strategy. If Kazakhstan is able to develop the Chinese direction of its policy in a proper way, that would definitely add to our independence from the world's giants."
"In the last several years since independence, many political issues with China have been resolved which clearly shows the successful development of bilateral relations, for example the border issue and the reduction of troops along the border," he said. "I think that these issues were resolved successfully. As for economic cooperation, today the Chinese market is the world's fastest growing market and that is why it is important for Kazakhstan's own interests to find a place in that market."
The two countries are members of the Shanghai Cooperation Organization (SCO) and conducted joint military exercises last year. Amirbekov said much of Nazarbaev's discussions with Chinese officials will center on cooperation within the SCO.
"During this visit the focus will be on the further development of economic cooperation, as well as the Shanghai Cooperation Organization," he said. "There are many projects that need to be discussed in the framework of this organization. That is why I am sure these projects, I mean the SCO projects, will be discussed as well."
But the dominant theme in Kazakh-Chinese talks is and will remain economic cooperation, particularly in the oil and natural gas spheres. Independent Kazakh political analyst Berik Abdygaliev told RFE/RL that for Kazakhstan, cooperation with China in the oil and gas industries carries more than merely financial gain for Astana.
"Through the further development of gas and oil pipelines we might deliver our mineral resources to other countries, which in turn would make us more independent from, first of all America, from Western countries, and from Russia," he said. "In other words, China has its own place in this political strategy. If Kazakhstan is able to develop the Chinese direction of its policy in a proper way, that would definitely add to our independence from the world's giants."
Energy Issues
Otan adviser Amirbekov noted, however, that oil and gas cooperation will likely be the backbone of Kazakh-Chinese ties for some time.
"Currently [Chinese companies] extract oil in western Kazakhstan and the Aktyube [regions]," Amirbekov said. "If the Kumkol pipeline [in western Kazakhstan] joins the [Sino-Kazakh pipeline] project [further east], the volume of crude oil sent to China will increase by several times in the near future. It looks like that issue is also on the agenda."
Kazakhstan has successfully balanced its foreign policy with Russia, China, and the United States since gaining independence in 1991. But relations with Russia are complicated by the fact that Russia owns the oil and gas pipelines that lead to consumer countries in Western Europe. Russia itself is an oil and gas producer and, thus, a competitor for Kazakhstan. U.S. companies have invested heavily in Kazakhstan's oil industry, in particular, since the early days of the country's independence. But these companies are interested in sharing profits in the selling of Kazakh oil.
China, in contrast, is a pure consumer. Chinese state companies have poured money into Kazakhstan to help build the pipelines that are or will bring oil and gas to the country to help drive the country's economic growth.
A $9 billion contract signed in the late 1990s between Kazakhstan and China to build an oil pipeline from Kazakhstan to China is already partially completed and China is already receiving Kazakh oil via some other pipelines.
China's Negative Effect?
Kazakh Energy and Natural Resources Minister Baktykozha Izmukhambetov said earlier this month that Chinese companies operating in Kazakhstan currently account for 12 percent of hydrocarbon production in the country. That figure is expected to rise sharply in the near future.
Some in Kazakhstan advise caution in dealing with China. " P said.< Amirbekov Kazakhstan,? of security national the affect negatively think, I might, economy Kazakhstan?s in roles companies? Chinese increase The>
Others, like former opposition figure Marat Auezov, remember the Kazakh-Chinese border agreement in the mid-1990s that ceded huge areas of Kazakh territory to China, and the agreement for China to use water from the Kara-Irtysh River that flows from China into Kazakhstan to help develop its own oil fields in the Xinjiang Uyghur Autonomous Region.
"We shouldn't ever forget our interests as a state, as a nation, especially in our relations with China," he said. "The first condition is there should not be any secret agreements. Both sides, especially ordinary Kazakhs, should know everything [about any agreements]. In the last 15 years we've had some bitter results from these [Sino-Kazakh] ties -- the border issue and also transborder water issues and other matters."
All these topics were on the agenda and part of agreements signed today when Nazarbaev met with Chinese President Hu Jintao.
Nazarbaev is also slated to go to Hong Kong and Macau during his visit.
(RFE/RL Kazakh Service Director Merhat Sharipzhan contributed to this report.)
China In Central Asia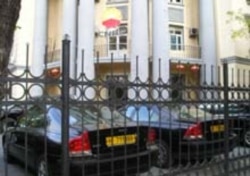 The Almaty,Kazakhstan, office of China's National Petroleum Corporation (RFE/RL)
BEIJING ON THE RISE:
The September 11, 2001, terrorist attacks against the United States prompted Washington to topple the Taliban regime in Afghanistan. At the time, many predicted the United States would gain a new foothold in Central Asia: new U.S. military bases appeared in Kyrgyzstan and Uzbekistan, U.S. foreign aid increased, and much U.S. attention was lavished on the region. Russia and China looked on warily. But the pendulum may be swinging back in Moscow's and Beijing's favor. China, especially, has expended great effort at winning friends in Central Asia and is becoming a force to be reckoned with
....(more)
RELATED ARTICLES
Turkmenistan-China Pipeline Project Has Far-Reaching Implications
Central Asia Looks To Fuel Asia's Economic Boom
The Geopolitical Game In Central Asia
ARCHIVE
To view an archive of RFE/RL's coverage of China, click here.

SUBSCRIBE
For weekly news and analysis on all five Central Asian countries by e-mail, subscribe to "RFE/RL Central Asia Report."