"[Our] countries have reiterated, once again, the course conducted by the leadership of both states aimed at strengthening and expanding good neighborly relations," Bakiev told reporters at a news conference following his talks. "In principle, we have reached agreement on all views and positions."
Trade, economic, and regional security issues were expected to dominate the agenda.
"I am looking forward to meetings with President Bakiev and other members of the government of your country," Hu said upon his arrival in Bishkek. "I am sure that my visit will bring a new additional impulse to the development of our good, neighborly relations and serve as a symbol of friendship and cooperation between China and Kyrgyzstan."
A political document on the further development of bilateral relations is due to be signed during Hu's visit.
"As with regard to agreements that will be signed," Kyrgyz Foreign Minister Ednan Karabaev told reporters in Bishkek on August 13, "there will be an intragovernmental agreement to fight the illegal drugs trade, an agreement in the field of animal quarantines, a memorandum on cooperation in environment protection, and also one on the opening of schools of higher education and a Confucius Institute [promoting Chinese language and culture]."
Today's talks came ahead of a summit of the Shanghai Cooperation Organization (SCO) in Bishkek on August 16.
The SCO comprises China, Kazakhstan, Kyrgyzstan, Russia, Tajikistan, and Uzbekistan.
Hu is also expected to observe joint SCO antiterrorism military exercises in Russia on August 17 with other heads of SCO states before traveling on to Kazakhstan.
The exercises are taking place in Russia's Chelyabinsk region and near Urumqi in China's Xinjiang Uyghur Autonomous Region from August 9 to 17.
China In Central Asia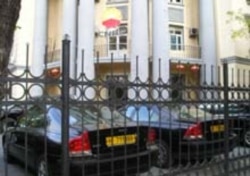 The Almaty,Kazakhstan, office of China's National Petroleum Corporation (RFE/RL)
BEIJING ON THE RISE:
The September 11, 2001, terrorist attacks against the United States prompted Washington to topple the Taliban regime in Afghanistan. At the time, many predicted the United States would gain a new foothold in Central Asia: new U.S. military bases appeared in Kyrgyzstan and Uzbekistan, U.S. foreign aid increased, and much U.S. attention was lavished on the region. Russia and China looked on warily. But the pendulum may be swinging back in Moscow's and Beijing's favor. China, especially, has expended great effort at winning friends in Central Asia and is becoming a force to be reckoned with
....(more)
RELATED ARTICLES
Turkmenistan-China Pipeline Project Has Far-Reaching Implications
Central Asia Looks To Fuel Asia's Economic Boom
The Geopolitical Game In Central Asia
ARCHIVE
To view an archive of RFE/RL's coverage of China, click here.

SUBSCRIBE
For weekly news and analysis on all five Central Asian countries by e-mail, subscribe to "RFE/RL Central Asia Report."