Kyrgyz Prime Minister Almaz Atambaev today discussed Bishkek's intention to invest in the pipeline project with visiting Chinese President Hu Jintao.
Atambaev said the pipeline would allow Kyrgyzstan to obtain gas from other exporters than it now does.
"[The Chinese] are saying that they want to transfer Turkmen gas," Atambaev said. "We have asked them to transfer the pipeline through our [country] because then we would not be looking at just a sole gas supplier. Then, both the Uzbek and Turkmen gas would be available to us from both sides."
Currently, Kyrgyzstan imports all of its gas from Uzbekistan.
Hu is in Bishkek ahead of a Shanghai Cooperation Organization (SCO) summit on August 16. He also is expected to attend antiterrorism exercises in Russia on August 17 with other heads of SCO states before traveling on to Kazakhstan.
The SCO comprises China, Kazakhstan, Kyrgyzstan, Russia, Tajikistan, and Uzbekistan.
(with agency reports)
China In Central Asia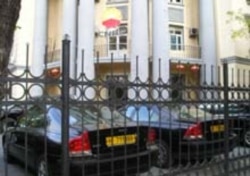 The Almaty,Kazakhstan, office of China's National Petroleum Corporation (RFE/RL)
BEIJING ON THE RISE:
The September 11, 2001, terrorist attacks against the United States prompted Washington to topple the Taliban regime in Afghanistan. At the time, many predicted the United States would gain a new foothold in Central Asia: new U.S. military bases appeared in Kyrgyzstan and Uzbekistan, U.S. foreign aid increased, and much U.S. attention was lavished on the region. Russia and China looked on warily. But the pendulum may be swinging back in Moscow's and Beijing's favor. China, especially, has expended great effort at winning friends in Central Asia and is becoming a force to be reckoned with
....(more)
RELATED ARTICLES
Turkmenistan-China Pipeline Project Has Far-Reaching Implications
Central Asia Looks To Fuel Asia's Economic Boom
The Geopolitical Game In Central Asia
ARCHIVE
To view an archive of RFE/RL's coverage of China, click here.

SUBSCRIBE
For weekly news and analysis on all five Central Asian countries by e-mail, subscribe to "RFE/RL Central Asia Report."