Russian Official Says Neo-Nazi Video Could Be Montage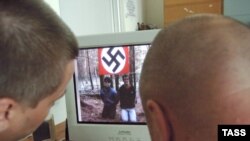 The video showed the two men kneeling in front of a Nazi swastika flag (file) (ITAR-TASS) August 21, 2007 - An official with Russia's Interior Ministry says the ministry "does not rule out" the possibility that a video purportedly showing the killing of two men by Russian neo-Nazis and posted on the Internet could have been a montage.
Oleg Yelnikov said traces of editing were discovered during a preliminary inspection, but stressed that further analysis was necessary, including frame-by-frame reading of the video.
The video purportedly depicts the execution-style killing by neo-Nazis of two men, allegedly from Tajikistan and the Russian republic of Daghestan.
(Interfax, ITAR-TASS)