Court In Georgia Convicts 12 Of Plotting A Coup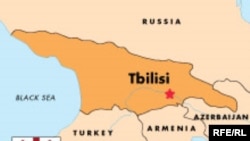 (RFE/RL) August 25, 2007 -- A Georgian court has convicted 12 followers of an exiled opposition leader of plotting to overthrow the government and sentenced them to up to 8 1/2 years in prison.
The defendants, who say the trial is politically motivated, refused to attend the August 24 hearing, and a defense lawyer said they would appeal the verdict.
"The fact that the courtroom has been closed throughout the trial I think speaks the loudest about the weakness of the government case," defense lawyer Linda Safara told journalists outside the court after the ruling. "They closed the trial on the pretext that there were national security interests involved. We haven't seen anything remotely resembling a state secret come out in this courtroom."

Most of the defendants are followers of Igor Giorgadze, a former security minister who is wanted in Georgia for alleged involvement in an assassination attempt against former President Eduard Shevardnadze.
(RFE/RL, Reuters, AP)