Iran Vows To Use One-Ton 'Smart' Bomb Against Enemies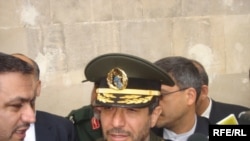 Iranian Defense Minister Mohammad Mostafa Najjar (file photo) (RFE/RL) August 26, 2007 -- Iran vows to use a new 1,000-kilogram "smart" bomb against its enemies and unveiled mass production of the new weapon.
Tehran first announced development of the long-range guided bomb on August 23, saying it could be deployed by the country's aging U.S.-made F-4 and F-5 fighter jets.
Defense Minister Mostafa Mohammad Najjar said on state television today that Iran will use these bombs "against our enemies when the time comes."
(AP)