Speaking to reporters after a conference in Baghdad on August 27, Crocker said the Iraqi government has managed to overcome its political crisis.
Crocker told RFE/RL's Radio Free Iraq that a new political arrangement signed by five Iraqi leaders on August 26 was a good step forward.
President Jalal Talabani, Vice Presidents Adil Abd al-Mahdi and Tariq al-Hashimi, Prime Minister Nuri al-Maliki, and Kurdish regional President Mas'ud Barzani declared that they had reached a consensus on a number of issues -- including releasing detainees held without charge, easing a ban on former Saddam Hussein supporters from government posts, regulating the oil industry, and organizing provincial elections.
Crocker hailed the progress as important for Iraq's future.
"Without any doubt, the five leaders' agreement is encouraging and important," he said. "The cooperation between the five leaders is important for the future of the country. We've seen some results yesterday. Of course, they and we all still have things to do, but this is certainly a good and encouraging step for the Iraqi people."
Crocker said that while it has been "slow, painful" and difficult -- the progress is encouraging.
(with material from agency reports)
Iraqi Insurgent Media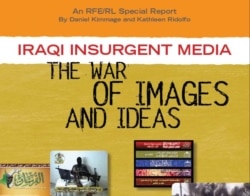 GETTING THE MESSAGE OUT. RFE/RL analysts Daniel Kimmage and Kathleen Ridolfo have produced a book-length study on the media efforts of the insurgency in Iraq and on how global jihadists are exploiting those efforts to spread their destructive message around the world....(more)
DOWNLOAD
(pdf format):
Part One Part Two Part Three Part Four Part Five



THE COMPLETE STORY: RFE/RL's complete coverage of events in Iraq and that country's ongoing transition.