Ahmadinejad said that Iran has taken "another step in the nuclear progress and launched more than 3,000 centrifuge machines."
Speaking to a group of Iranian students on September 2, he claimed that a new centrifuge is being installed in Iran every week to enrich uranium.
Enriched uranium can be used both for power stations and nuclear warheads. The United States and some of its Western European allies suspect that Iran has been trying to develop nuclear weapons, an accusation that Tehran denies.
Ahmadinejad's claim contradicts an International Atomic Energy Agency (IAEA) report that put the number of centrifuges at under 2,000.
In its report on August 30, the
IAEA praised Iran's recent cooperation
with the agency's probe of its nuclear sites as a "significant step forward" and said that enrichment has slowed down.
Are Sanctions Working?
The UN has already imposed two sets of sanctions, and the United States has called for a third set of tougher sanctions to be imposed if Iran does not stop enriching uranium.
Shannon Kile, a senior nonproliferation expert at the Stockholm International Peace Institute, says that the UN sanctions up to now -- targeting Iranian individuals and businesses involved in the country's nuclear and missile program -- have not been "painful to the Iranian economy."
"The idea has always been that there should be escalating series of sanctions over time to force Iranian compliance. As of [today] we see no indication that Iran is willing to obey the [UN] Security Council's demand that it halt the uranium-enrichment program," Kile says.
"If anything, Iran is intensifying its enrichment program. So it think at the moment, at least, that the Security Council resolution would probably be honored by -- basically in the breach -- that Iran has no intention of complying with them," Kile adds.
Ahmadinejad has said that Iran will continue its drive for nuclear development in spite of the sanctions.
Iranian news agencies quoted Ahmadinejad as saying the West thought Iran would give in to its demands with each resolution, but "after each resolution the Iranian nation presented another nuclear achievement."
There has not been any independent verification of Ahmadinejad's claim of having 3,000 centrifuges.
Battling Nuclear Proliferation
Battling Nuclear Proliferation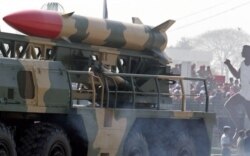 A nuclear-capable, short-range missile on display in Islamabad, Pakistan, in March (AFP)


IS PROLIFERATION INEVITABLE? On June 18, RFE/RL hosted a briefing featuring Henry Sokolski, executive director of the Nonproliferation Policy Education Center. Sokolski discussed the challenges to the global nonproliferation regime and what Western countries can do to strengthen it.
LISTEN
Listen to the entire briefing (about 60 minutes):

Real Audio
Windows Media
RELATED ARTICLES
El-Baradei Says Attack On Iran Would Be Catastrophic
Rogue Nuclear Programs Threaten New Arms Race
Why Shouldn't Pyongyang Join Nuclear Club?
U.S. Official Outlines Concerns About Iran's Nuclear Program