Bush, on a surprise visit to Iraq's Al-Asad Air Base, was speaking after talks with top U.S. and Iraqi leaders.
But the U.S. president, speaking alongside Defense Secretary Robert Gates and Secretary of State Condoleezza Rice, did not say how many troops could be withdrawn or how soon.
Bush earlier met with Iraqi Prime Minister Nuri al-Maliki, as well as General David Petraeus, the top U.S. commander in Iraq, and U.S. Ambassador to Baghdad Ryan Crocker, the two officials who are due this month to deliver a key report on progress in Iraq.
Bush said that Petraeus and Crocker told him that "if the kind of success we're now seeing continues, it will be possible to maintain the same level of security with fewer American forces."
Bush also said America "is not going to abandon the Iraqi people."
Bush's unannounced visit to Iraq is seen as a bid to boost support for his military strategy there: the current surge of 30,000 additional troops to Iraq.
His arrival at Al-Asad Air Base, in a remote part of western Al-Anbar Governorate, bypassed Baghdad in an apparent sign of impatience with the political paralysis in the capital.
Key Reports Due
Bush's visit comes just days before General Petraeus and Ambassador Crocker are slated to testify before the U.S. Congress on whether Bush's troop surge has succeeded in stabilizing Iraq.
Their assessment, as well as a progress report that the White House must deliver to Congress by September 15, is likely to help determine the next phase of the war.
With Democrats calling for a U.S. withdrawal and a rising U.S. death toll, Bush is keen on making a case that progress is being made, especially on security in Al-Anbar.
However, Washington cannot sustain the troop buildup indefinitely. And with the lack of political progress toward ending the fighting, Bush has been hard-pressed at home to make his case.
So his trip today is aimed at just that: to help persuade a skeptical U.S. public and Congress that now is not the time to pull out of Iraq.
Bush stopped in Iraq ahead of a visit to Australia for an economic summit with Asia-Pacific leaders. The trip was a closely held secret for obvious security reasons, and he left a day earlier from Washington than had been officially scheduled.
(with AP, AFP)
Searching For A Way Forward
Searching For A Way Forward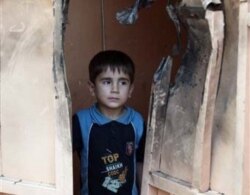 A boy looks out from his Baghdad home (AFP)
LOOKING BEYOND AL-MALIKI: RFE/RL Iraq analyst Kathleen Ridolfo led an RFE/RL briefing about the changing political landscape in Iraq, focusing on efforts to gain the upper hand in the event that the government of Prime Minister Nuri al-Maliki falls.
LISTEN
Listen to the entire briefing (about 70 minutes):

Real Audio
Windows Media
RELATED ARTICLES
Opposition Appears Set On Bringing Down Al-Maliki
Former Premier Pushing New Plan For Reconciliation
Al-Sadr Prepares For Post-Coalition Era
Sunni Ultimatum Rocks Al-Maliki's Position


THE COMPLETE STORY: RFE/RL's complete coverage of events in Iraq and that country's ongoing transition.