U.S. General Wants More Time To Evaluate Iraq Progress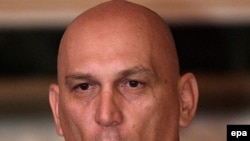 General Raymond Odierno is a deputy to General David Petraeus, the top U.S. commander in iraq (file) (epa) July 20, 2007 -- A top U.S. commander says he will give U.S. leaders the assessment they are expecting in September on progress in Iraq.
But Lieutenant General Raymond Odierno, speaking to reporters via teleconference from Baghdad, said he would need at least until November to tell if any improvements represented long-term trends.
The September report has been cast as a pivotal time for determining the course of the war in Iraq.
Odierno, a deputy to General David Petraeus, the U.S. military commander in Iraq, also said changing military strategy in Iraq too quickly would endanger U.S. forces.
Nearly 30,000 extra U.S. troops have been sent to Iraq in recent months in an effort to improve security.
But U.S. President George W. Bush is facing mounting pressure in Congress and from the public to bring them home.
On July 19, four more U.S. solders were reported killed along with their Iraqi interpreter in a roadside bomb attack in eastern Baghdad.
(Reuters, AP)

SUBSCRIBE For weekly news and analysis on Iraq by e-mail,
subscribe to "RFE/RL Iraq Report."