Ali-Akbar Hashemi-Rafsanjani becomes just the second chairman in the assembly's history, succeeding Ayatollah Ali Meshkini, who died on July 30.
Hashemi-Rafsanjani's selection has been widely seen as strengthening his position against the radical right-wing current that is embodied for many by President Mahmud Ahmadinejad and two clerical allies, Guardians Council Secretary Ayatollah Ahmad Jannati and Ayatollah Mohammad Taqi Mesbah-Yazdi.
The Assembly of Experts is a body of mostly senior clerics that elects and supervises the work of Iran's supreme leader. Hashemi-Rafsanjani also heads the Expediency Council, a key legislative and political-arbitration body.
Rafsanjani received 41 of 76 votes against his rival for the chairmanship, perceived presidential ally Ayatollah Ahmad Jannati.
The assembly selected Ayatollah Mohammad Momen, the representative for Qom Province, to take Hashemi-Rafsanjani's place as the first deputy chairman of the assembly. Momen received 37 votes, against 34 votes cast for another member, Iranian judiciary chief Ayatollah Mahmud Hashemi-Shahrudi. The assembly presidium includes Ayatollah Mohammad Yazdi as the second deputy chairman, and Ayatollahs Ahmad Khatami and Qorban Ali Dorri-Najafabadi as secretaries.
Victory For 'Pragmatism'?
The reformist daily "Etemad" reported on September 5 that "pragmatists" were now heading the assembly, winning a bitter struggle in recent weeks following Ayatollah Meshkini's death. It stated that while the difference in votes between Hashemi-Rafsanjani and Jannati was not resounding, it demonstrated a preference for moderation or pragmatism over dogmatism inside a body that could be called on at some point to replace 68-year-old Supreme Leader Ayatollah Ali Khamenei.
The vote came despite what "Etemad" described as a campaign by the radical right to denigrate Hashemi-Rafsanjani. That alleged effort includes, most recently, reported moves to restrict the publication of Hashemi-Rafsanjani's controversial diaries. Some of his recollections of Iran's late revolutionary leader, Ayatollah Ruhollah Khomeini, have angered the right, for depicting Khomeini in passages as more a pragmatist -- presumably like Hashemi-Rafsanjani -- than a dogmatist or idealist. The daily quoted Culture Minister Mohammad Hossein Saffar-Herandi as saying that new editions of Hashemi-Rafsanjani's memoirs could be printed, if approved by the Center for the Publication of the Imam Khomeini's Works, which presumably is charged with safeguarding documentation and the legacy of the late leader.
Another reformist daily, "Aftab-i Yazd," reported on September 5 on what it called the "Experts' highly significant vote for Hashemi-Rafsanjani" in the face of weeks of allegedly "focused and planned" attacks on him. It added that the attacks were the culmination of a two-year campaign of denigration against the former president.
It saw this vote as a corroboration of Hashemi-Rafsanjani's election in December to a seat in the Assembly of Experts, and a renewed public rejection, through its representatives in the assembly, of the radical right's antics. The daily speculated that it might be a rejection by many in the chamber of Ayatollah Jannati's public positions, including vague denunciations of large-scale theft and corruption in the oil sector.
Commentator Mohammad Quchani wrote in the daily "Etemad-i Melli" on September 5 that the vote was significant for bringing the nitty-gritty of politics -- in the form of a contest and vote -- to a body that has sought to remain aloof from the petty world of factions. Quchani regarded it as the penetration of a form of political reformism into a highly traditionalist body.
He also noted the assembly's preference for a politician and statesmen over a rival (presumably Jannati) who is reputedly more learned in theology. Members of the assembly are meant to be experts in theology and jurisprudence, and thus able to discern the suitability of Iran's supreme clerical leader. But Quchani cautioned that the first and second deputy chairmen of the body are from the rival, archconservative faction, providing a quasi-supervisory role over the chairman.

Not A Major Shift
Assembly member Hashem Hashemzadeh-Harisi, writing in "Etemad" on September 5, sought to present Hashemi-Rafsanjani's election as natural, given that he had been its deputy chairman for 25 years. He wrote that Hashemi-Rafsanjani's election will not essentially change the "course" of the assembly. Hashemzadeh-Harisi said that "Hashemi[-Rafsanjani] is neither one to break with tradition, nor does he intend to damage the system's past history," speculating that "if he does wish to bring any change, it will be...gradual, not a revolutionary change, and this...governs [Hashemi-Rafsanjani's] spirit."
Hashemzadeh-Harisi added that the assembly has rules and procedures, and its chairman guides its procedures, rather than controlling the body. He wrote that the assembly itself will decide if it desires a more interventionist role in the country's government or remain on the sidelines while it awaits the crucial duty at some point of voting for the next supreme leader.
Tehran-based journalist Ali Keshtgar also had a sober assessment of the election's impact. Keshtgar told Radio Farda on September 4 that Hashemi-Rafsanjani's election will change very little on the political landscape.
Keshtgar argued that "those who think Mr. Hashemi supports an open political atmosphere or will improve the situation of reformists are deluded." He said Hashemi-Rafsanjani has never confronted nor thwarted Supreme Leader Khamenei on matters on which they might have disagreed. "Given the [assembly's] performance," Keshtgar said, "one should not expect it to supervise" the leader's office.
Check On Radicals?
Another journalist, Mashallah Shamsolvaezin, told Radio Farda more optimistically on September 4 that the vote showed that Iran's clergy is still intelligent enough not to allow a radical faction that wishes "to forget and detach itself from the past" to eliminate a political veteran.
Shamsolvaezin expressed hope that the assembly would now take a more active role in supervising the supreme leader's office -- and perhaps even limiting his powers. He suggested that "this will be a very important development, and Hashemi-Rafsanjani has referred to this." He said he thinks Hashemi-Rafsanjani is trying to a restore an "acceptable" situation for Iranian society, given his recent rapprochement with critical or reforming elements.
Another commentator, Mohammad Sadeq Javadihesar, told Radio Farda on September 4 that while Hashemi-Rafsanjani will seek to present himself as a bipartisan figure, he expects his election to lead to greater interaction between himself and senior clerics and politicians -- putting a check, in turn, on some displays of radicalism. Javadihesar cited the possibility of pragmatic and "power-oriented" forces gravitating toward Hashemi-Rafsanjani in his newly strengthened position.
Ponderous, But Systematic
Journalist Jafar Golabi commented on Hashemi-Rafsanjani's political longevity and resilience in "Etemad" on September 5. Golabi wrote that the first generation of postrevolutionary politicians has yet to be written off, and he urged reformists to learn from Hashemi-Rafsanjani's persistence and preference for discreet maneuvering and quiet negotiations over "senseless hastiness." The journalist called Hashemi-Rafsanjani a "permanent and active resident of the house of politics." He addressed reformists, saying that Hashemi-Rafsanjani's election shows that one faction need not permanently dominate the Iranian political scene.
Hashemi-Rafsanjani's victory might be said to be a reward for his quiet resilience and refusal to engage in a public confrontation with the radical right during the past two years -- which might have been a potentially damaging development for Iran's political establishment. His institutional and political position is strengthened now, and with the endorsement of senior clerics, Hashemi-Rafsanjani is a more difficult target for attack.
But it is difficult to see his election heralding any immediate change of direction for the political leadership, or his moving anytime soon to contain the supreme leader's activities. Like the late Ayatollah Khomeini, Hashemi-Rafsanjani has made statements that are heartening to both conservatives and reformists.
If anything, Hashemi-Rafsanjani is arguably best representative of the positions of the Iranian state -- ponderous but systematic. He defends Iran's long-term strategies and essential foreign-policy, nuclear, and economic-development goals, and urges political unity inside the country.
The Assembly of Experts might have concluded that a check on radicalism was necessary at a time when regional violence and the increasingly threatening tone of some Western powers required the Islamic republic to tread with caution.
The Structure Of Iran's Government
The Structure Of Iran's Government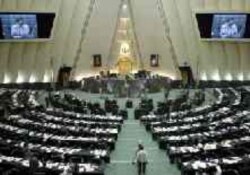 INSIDE THE ISLAMIC REPUBLIC: Iran is a theocratic Islamic republic governed under a 1979 constitution that was revised in 1989, when presidential powers were expanded and the prime minister's post was abolished.
Appointed -- not elected -- offices and bodies hold the real power in the government. The supreme leader, who serves as a chief of state would, is appointed for life by an Islamic religious advisory board that is called the Assembly of Experts. The supreme leader oversees the military as well as the judiciary and appoints members of the Guardians Council and the Expediency Council.
The Guardians Council -- some of whose members are appointed by the judiciary and approved by the parliament -- works closely with the government and must approve political candidates and legislation passed by the parliament. The Expediency Council is responsible for resolving legislative disputes that may arise between parliament and the Guardians Council over legislation.
The president, who is popularly elected for a four-year term, serves as the head of government. The legislative branch is made up of a 290-seat body called the Majlis, whose members are elected by popular vote for four-year terms...(more)
ARCHIVE
RFE/RL's
coverage of Iran
.