At Least 28 Killed In Algeria Bomb Attack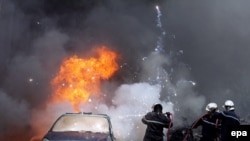 Car bomb attack in Algiers in April (epa) September 8, 2007 -- Hospital officials say the number of people killed in a car bomb explosion in eastern Algeria has risen to at least 28.
Some 30 people were said to be injured in the attack. The blast occurred in the Mediterranean port city of Dellys.
It came two days after a suicide bombing in the eastern town of Batna killed at least 20 people shortly before a scheduled visit by Algerian President Abdelaziz Bouteflika.
Bouteflika blamed that attack on Islamist militants trying to undermine his policy of national reconciliation.
(AP, AFP)