Lebanese security officials say the ranks of Fatah al-Islam include as many as 50 jihadists who are veterans of the war in Iraq.
The Lebanese Army has called for outside support. Military supplies have begun arriving from the United States. And militant leaders in Lebanon claim that the situation demonstrates that jihadist fighters are spreading out from Iraq.
Nadim Shehadi, an expert on Lebanon and the Middle East at Britain's Chatham House think tank, says it is hard to prove that Fatah al-Islam is directly linked to Al-Qaeda. But he says group members do appear to have infiltrated Lebanon from Syria, and are a splinter group of another Syrian-controlled militant organization.
"We don't know officially [about] Al-Qaeda [links], but what they are composed of is people of many nationalities that may have fought in Iraq before," Shehadi says. "The view is that it's the same type of groups that are being sent into Iraq that have been sent to Lebanon -- having been in Iraq and been transferred to Lebanon from Syria."
Regional Concerns
In Saudi Arabia, the government said that it arrested 172 militants last month who were planning to attack oil installations, public officials, and military posts. The authorities say many of the detained militants appear to have had training in Iraq.
"The issue of foreign fighters in Iraq has always been one that has been
overinflated by the Iraqi government and certainly by the U.S.-led
multinational forces."
Officials in Jordan, an ally of the United States in the war against terrorism, say they've detained a team of militants from Iraq who were preparing attacks against Americans and tourists in Amman.
Meanwhile, militants in Iraq are distributing instructional videos about terrorist attacks on the Internet that circulate freely around the world. And insurgent tactics in Iraq are starting to appear in other parts of the world -- from Somalia and Algeria to Afghanistan.
James Denselow, an expert on Iraq and security issues, also at the Royal Institute of International Affairs at Chatham House in London, questions the claims of government officials about the number of militants crossing to and from Iraq.
Inflated Figures?
"There is an element of truth in this. But I think you have to be careful about proportionality here. The issue of foreign fighters in Iraq has always been one that has been overinflated by the Iraqi government and certainly by the U.S.-led multinational forces," Denselow says.
"When you actually try to find a statistic about the number of fighters in the country, its certainly extremely different from than the situation in Afghanistan against the Soviets and in other conflicts around the world. The latest reports I'm hearing is that it's only about 12 people a month who are going in from, say, the Syrian border," he adds. "The Americans are saying it is not just the numbers, but the fact that these people act as force multipliers. They act as suicide bombers and they are quickly rushed into quite devastating attacks."
Denselow says the Lebanese Army and the Lebanese government have good reason to exaggerate the number of militants that have moved into Lebanon with experience in Iraq.
"Fifty's not a huge number. But on the other hand, Lebanon is a place in which you have a number of powers playing a number of different games. For the Lebanese government -- which is incredibly divided and fractured -- to try and justify its fight against an Al-Qaeda-like group, means that they are more likely to acquire American backing in terms of military supply," he notes.
"That's something they desperately need. The Lebanese Army is very small and, of course, lots of them are guarding the borders with Israel and with Syria," he continues. "As soon as America starts supporting forces in Lebanon directly, as it learned in the past, then places like Iran and Syria will try to counter that. It's an incredibly high-risk game based around a very vague idea of what Al-Qaeda in Lebanon really is."
Little Evidence Of Exodus
Denselow also says it is too early to start describing the movement of militant out of Iraq as "an exodus."
"Saudi Arabia has the largest concern simply because that's where the origins are coming from. And of course, that's where you have a huge problem with the state trying to separate the strong religious Wahhabism teaching from the Al-Qaeda vein there," he says.
"To say it is an exodus is too strong. To say it could have far-reaching consequences is true because these are extremely determined and motivated individuals willing to take their life and attack, often, soft targets if they have Western or tactical connections that they feel are justified," Denselow adds.
Still, Denselow says it is clear that the tactics used by militants in Iraq are being used by militants in other countries. "I do certainly think there is a link between the Afghanistan and the Iraq conflicts. Much of this is the inspirational idea of learning from tactics from different fighting groups in different parts of the world. The major killer of U.S. forces in Iraq is improvised explosive devices. And when you combine improvised explosive devices with vehicle-borne suicide attacks, you tend to have the most devastating form of weapon.
"Iraq had no history of suicide attacks until the invasion of 2003. Since then, we've seen an unbelievably high number of suicide attacks and people being used to conduct suicide attacks. It's simply unprecedented, even relative to the Japanese kamikaze [in World War II] and to the Tamil suicide Tigers" in Sri Lanka, he says
Denselow concludes that there is a kind of "Darwinian evolution" to any antioccupation resistance or insurgency. He says militants with expertise on weaponry tend to be more likely to survive and pass their knowledge on to the next generation of jihadists. And those who have not learned the most effective guerilla tactics tend to be killed or captured.
Searching For A Way Forward
Searching For A Way Forward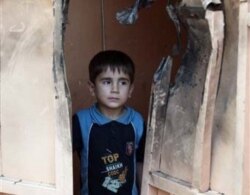 A boy looks out from his Baghdad home (AFP)
LOOKING BEYOND AL-MALIKI: RFE/RL Iraq analyst Kathleen Ridolfo led an RFE/RL briefing about the changing political landscape in Iraq, focusing on efforts to gain the upper hand in the event that the government of Prime Minister Nuri al-Maliki falls.
LISTEN
Listen to the entire briefing (about 70 minutes):

Real Audio
Windows Media
RELATED ARTICLES
Opposition Appears Set On Bringing Down Al-Maliki
Former Premier Pushing New Plan For Reconciliation
Al-Sadr Prepares For Post-Coalition Era
Sunni Ultimatum Rocks Al-Maliki's Position


THE COMPLETE STORY: RFE/RL's complete coverage of events in Iraq and that country's ongoing transition.