Solana spoke to RFE/RL Ukrainian Service correspondent Natalia Vikulina in Brussels on the eve of an EU-Ukraine meeting in Kyiv on September 14.
"For us, this summit is important," Solana said, "because Ukraine is a very important partner, and we want to deepen our relationship with your country."
The annual meeting, to be attended by senior EU officials and rivals Ukrainian President Viktor Yushchenko and Prime Minister Viktor Yanukovych, is expected to focus on the terms of a new cooperation agreement.
Solana said there were still elements of the relationship that are open for discussion -- for instance trade, which he said partly depends on Ukraine's expected accession to the World Trade Organization.
Enthusiasm for further enlargement is currently at a low in the EU.
At a meeting bringing together the members of the EU's European Neighborhood Policy (ENP) in early September, the focus was on economic integration, energy cooperation, and increased travel and work opportunities, rather than prospects for membership. Ukraine has objected to involvement in the ENP, saying it seeks full-fledged membership in the EU.
Ukraine's ambassador to the EU, Roman Shpek, has said that the bloc's flagship foreign policy instrument remains "inadequate" for his country.
Solana also said that he has no doubt that Ukraine's upcoming elections will be free and fair. Ukrainians will vote in preterm elections on September 30. The elections were called after a standoff between the president and parliament earlier this year.
Ukraine And European Energy Security
Ukraine And European Energy Security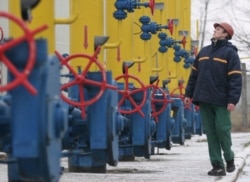 A worker inspects a gas facility outside of Kyiv (epa file photo)

MURKY CONNECTIONS. A year after the so-called gas war between Moscow and Kyiv, energy transhipments from Russia to Europe via Ukraine remain a concern. On December 1, RFE/RL's Washington office hosted a briefing featuring Tom Mayne, an energy researcher for the London-based Global Witness. Mayne discussed the lack of transparency in the energy sectors of Ukraine, Russia, and gas supplier Turkmenistan.
LISTEN
Listen to the entire briefing (about 60 minutes):

Real Audio
Windows Media
RELATED ARTICLES
Neighbors Watch As Russia Moves Toward WTO Membership
Kyiv Announces Terms Of New Russian Gas Deal
Former U.S. Ambassador Says Kyiv Can Cope With Gas Price Rise
ARCHIVE
RFE/RL's English-language coverage of
Ukraine
,
Russia
, and
Turkmenistan
.