Speaking on September 16 on the U.S. television network Fox, Gates said the United States would continue to pursue diplomatic and economic means to persuade Iran to halt its nuclear ambitions -- but that "all options" remain on the table.
The United States has accused Iran of trying to develop nuclear weapons, and has also suggested that it might consider military action to thwart Tehran's ambitions. Iran maintains that its nuclear program is peaceful.
As for Iraq, Gates said U.S. troops are likely to remain there for a "protracted period," but at a reduced level and with a more limited mission.
Gates did not give any troop numbers or a time scale. But he said the force would be a fraction of the size of the present deployment of over 160,000 personnel.
In the long term, Gates said U.S. troops would focus on border security, fighting terrorists, and training and equipping Iraqi security forces.
(AFP, AP)
Guardians Of Iran's Revolution?
Guardians Of Iran's Revolution?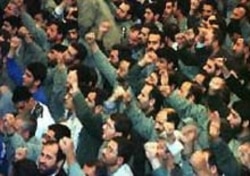 IRGC members at a speech by Supreme Leader Ayatollah Ali Khamenei (AFP file photo)
The Islamic Revolutionary Guards Force (pasdaran) was created in 1979 by the father of the Iranian Revolution, Ayatollah Ruhollah Khomeini, to safeguard that revolution.
The IRGC has several components whose numbers are widely disputed, but any serious estimates put their ranks at upward of 100,000. They operate independently or in cooperation with regular army forces.
President Mahmud Ahmadinejad reportedly served during the Iran-Iraq War as an instructor for the IRGC's volunteer-based Basij, a blunt official instrument to police moral values. IRGC allies form an influential segment of Ahmadinejad's power base.
Many of the most recent accusations emerging from the United States have involved the so-called Quds (Jerusalem) Force, whose responsibilities include extraterritorial operations that initially included efforts to export Iran's Shi'ite revolution. The Quds Force officially reports directly to the country's supreme leader, currently Ayatollah Ali Khamenei.
ARCHIVE
"U.S., Iranian Ambassadors Meet In Baghdad"
"Expert Discusses Iran's Quds Force And U.S. Charges Concerning Iraq"
"U.S. Alleges Iran Using Hizballah As 'Proxy' In Iraq"