Kazulina, who is suffering from advanced breast cancer, says the state does not give sufferers enough support.
"The state is not concerned with this," she says. "The state is concerned with treatment. As soon as a woman is released from hospital after treatment, she is left alone with her problems and troubles in [her] family and at work. It is very difficult for her at that moment to establish some new relations between herself and her surroundings."
Kazulina discovered she had breast cancer in March 2006, on the day her husband was arrested at an opposition rally.
Her husband was later sentenced to 5 and 1/2 years in prison for hooliganism and organizing group activities disturbing the public peace -- charges widely believed to be politically motivated.
Since then, Kazulina has actively campaigned for the release of her husband, who staged a hunger strike in 2006 demanding that the UN Security Council discuss the situation in Belarus.
Kazulina has called on students and professors across the world to join a campaign for the release of Kazulin, who was rector of Belarusian State University (BDU) between 1996 and 2003. Kazulina has also demanded that the UN Security Council discuss the situation in Belarus.
In contrast to many Western societies, where it has become normal for public figures and celebrities to speak openly about their health problems, Kazulina says in Belarus the issue is rarely discussed openly.
But she says she wants to break that taboo:
"This problem will not be hushed up," she says. "We will be providing women with important information in order to help them preserve their health for many years."
Politics In Belarus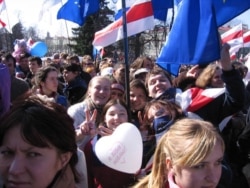 Demonstrators in Minsk on March 25 (RFE/RL)

WHAT HAPPENED? Belarus scholar Vitali Silitski and RFE/RL Belarus analyst Jan Maksymiuk took a look a how Belarus has changed since mass demonstrations in Minsk in March 2006 failed to produce meaningful change in that country.
LISTEN
Listen to the entire briefing (about 70 minutes):

Real Audio
Windows Media
RELATED ARTICLES
Has Regime Adopted New Tactics Toward Opposition?
Lukashenka Is Firmly In His Saddle, Despite A Bumpier Road
Why Can't Belarus's Opposition Just Get Along?
SUBSCRIBE
For weekly news and analysis on Belarus, Ukraine, and Moldova by e-mail,
subscribe to "RFE/RL Belarus, Ukraine, And Moldova Report."