Belarusian Opposition Leader Loses Court Appeal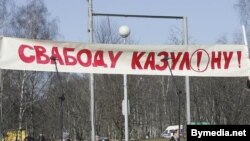 A rally in support of Kazulin in Minsk in December 2006 (Bymedia.net) May 22, 2007 -- The Belarusian Supreme Court has rejected an appeal from a jailed opposition activist.
Alyaksandr Kazulin, one of two opposition figures who ran against President Alyaksandr Lukashenka in a March 2006 presidential election, was jailed for 5 1/2 years for organizing opposition marches following the vote, which was officially won by Lukashenka in a landslide.
In another case, opposition activists Pavel Sevyarynets and Mikola Statkevich were released by Belarusian authorities after serving two years in prison for organizing unauthorized anti-Lukashenka demonstrations.
(Reuters, AFP)