Belarus Opposition Figure Ends Hunger Strike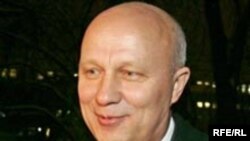 Alyaksandr Kazulin (file photo) (RFE/RL) December 12, 2006 -- Jailed opposition activist Alyaksandr Kazulin has ended his hunger strike after 53 days without food, his wife Iryna Kazulina confirmed today after talking to him by telephone.
Kazulin reportedly told his wife he was well and had started drinking freshly squeezed juice.
Belarusian authorities had said earlier that Kazulin ended his fast, but his wife refused to believe the statements until she had spoken to him.
Kazulin, who heads the Social Democrat party, was sentenced to 5 and 1/2 years in prison in July after leading protest rallies against the reelection of Belarusian President Alyaksandr Lukashenka.
He was refusing food as a way of drawing attention to Belarus's authoritarian rule.
According to his wife, he has lost 40 kilograms since starting his hunger strike on October 20.
(Reuters, Belapan)


Click on the image to view a dedicated page with news, analysis, and background information about the Belarusian presidential ballot.
MEET THE CANDIDATES: Read brief biographies of the four candidates in the March 19 election.


Click on the image to view RFE/RL's coverage of the election campaign in Belarusian and to listen to RFE/RL's Belarusian Service.