Today's parade marked the start of Iran's annual "Sacred Defense Week."
The weeklong events commemorate the 27th anniversary of the start of the Iran-Iraq war, which ended inconclusively for both countries, after heavy losses, in 1988.
In his speech, President Mahmud Ahmadinejad called on the United States to "show courage" and leave Iraq.
Ahmadinejad said the "roots of insecurity and discord" in the region were caused by the presence of foreign troops in Iraq.
He also said threats and economic sanctions will not stop Iran's technological progress.
"Those who think today that by using such outmoded tools as psychological warfare and economic sanctions they can stop the Iranian nation's fast and growing progress, are making a mistake," he said.
Ahmadinejad added that the country will defend itself in case of any military attack and make the attacker "regret its action."
Iranian Show Of Force
As he spoke, troops, tanks, and other military hardware passed by the podium. The military also showed off its domestically manufactured fighter jet, the Saegheh, and a new missile named Ghadr, saying it had a range of 1,800 kilometers. The Ghadr appears to be an upgrade of the long-range Shahab-3 missile.
The United States accuses Iran of supporting Shi'ite militants in Iraq. Tehran is also under international pressure to stop its controversial nuclear work, which is suspected to cover an atomic weapons drive.
The United States has never ruled out using military strikes to punish Iran for its defiance in the nuclear standoff.
Iran, which says its nuclear program is for peaceful purposes, has threatened to hit back at U.S. interests in the Middle East if attacked.
Britain-based military expert Hossein Aryan, speaking to Radio Farda, said he wouldn't read too much into Ahmadinejad's latest comments.
"I think these are reactions rather than threats, based on the weapons Iran is producing. Its military doctrine is based on defense," he said. "These comments are a reaction to threats that are sometimes mentioned here and there against Iran. They are also a reaction to reports that the U.S. military option is still on the table and is still being considered. "
The UN Security Council has already imposed two rounds of limited sanctions on Iran aimed at trying to force Tehran to halt uranium enrichment activities.
Meeting in Washington on September 21, officials of the five permanent Security Council members and Germany said they will keep pursuing a "dual track" approach to Iran -- trying to persuade it to abandon enrichment via negotiations while considering new sanctions.
While France and Britain strongly back a U.S. push for harsher Security Council sanctions, China and Russia oppose this.
Ahmadinejad is due to leave on September 23 for New York to attend the UN General Assembly, where he is to give an address.
Ahmadinejad is also scheduled to speak at a question-and-answer forum at Columbia University in New York on September 24.
His request to visit "Ground Zero," the site of the two fallen World Trade Center towers, has been denied by U.S. authorities.
The Proliferation Threat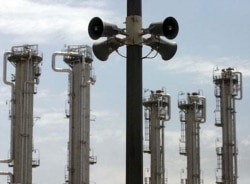 The Arak heavy-water plant in central Iran (Fars)


BENDING THE RULES. Henry Sokolski, executive director of the Nonproliferation Policy Education Center, told an RFE/RL-Radio Free Asia briefing on January 9 that the West is hamstrung in dealing with Iran and North Korea because of the way it has interpreted the international nonproliferation regime to benefit friendly countries like India and Japan.
LISTEN
Listen to the entire briefing (about 90 minutes):

Real Audio
Windows Media
RELATED ARTICLES
Iran, North Korea Present Proliferation Challenges
Tehran Watches As North Korea Tests Global Resolve
Rogue Nuclear Programs Threaten New Arms Race
Why Shouldn't Pyongyang Join Nuclear Club?