September 24, 2007 (RFE/RL) -- Preelection congresses by Russia's different political forces have been multiplying in the run-up to the State Duma parliamentary election.
Today, opposition forces gathered in Moscow to discuss a common strategy ahead of the December 2 vote.
As RFE/RL Russian Service correspondent Maksim Yaroshevsky reports from Moscow, the congress got off to a rocky start:
"About 20 individuals dressed as homeless people arrived carrying pieces of dirty cardboard with the words: 'We are for Other Russia,' he says. "They were soon joined by activists of the Young Guard organization carrying flags and chanting: 'No to Other Russia.' Inside, panicked organizers tried to figure out whom to let in and who is a provocateur. A provocateur nonetheless managed to get in and locked the entrance doors with a bike lock. Since there were no pliers at hand, oppositionists spent a long time cutting the lock with an ordinary table knife."
Deep Divisions
Such disruptions are common at events organized by Other Russia, a loose political coalition united in opposition to the Kremlin.
Other opposition forces, including the Communist Party, were also in attendance. The highlight of the conference is a vote to select a single opposition candidate for the March 2008 presidential elections. Such votes have already taken place in 43 regions, but the Moscow ballot is seen as determining.
Vying for the position are Former Prime Minister Mikhail Kasyanov, who heads the People for Democracy and Justice movement, and former chess champion Garry Kasparov, the leader of the United Civic Front.
But the absence of Russia's two largest opposition parties, Yabloko and the Union of Rightist Forces, underlined the deep rifts that plague the Russian opposition.
The two parties have been boycotting Other Russia, citing the participation of what they consider radical political movements such as the National Bolshevik Party.
Political analyst Dmitry Oreshkin says divisions within the coalition itself undermine its political impact.
"Unfortunately, this team is united solely by its hostility to the Kremlin," says Oreshkin. "This group of individuals is unlikely to play any role in the Duma elections, although they may achieve something in the presidential elections -- but only if they put forward one single opposition candidate. What they are doing is nonetheless interesting and worthy of respect. It is a political fight in conditions that are extremely difficult, unfavorable, and unfair toward oppositionists."
Fielding a single presidential candidate has long been a divisive issue within Other Russia and the opposition as a whole.
In July, the coalition's failure to agree on a common candidate pushed Kasyanov to abandon the group and form his own political movement, the People for Democracy and Justice party.
Speaking on September 23 at a congress during which he was named party leader, Kasyanov repeated his hope that all Russia's liberal parties will be able to unite around a single candidate in the presidential election.
Ultimately, however, the lack of voter support is likely to prove much more of an obstacle than inner divides.
Political analyst Oreshkin says the Russian electorate is not yet ready for the opposition's message:
"The strength of the non-system opposition relies chiefly on the Kremlin's mistakes," he says. "The harsher it acts and the more obviously the rights of small political parties to exist independently are violated, the more discontent against the authorities grows. But this discontent needs time to grow. And since the majority of people is much more satisfied than in Soviet times, the non-system opposition stands almost no chance in the foreseeable political cycle."
Democracy In Russia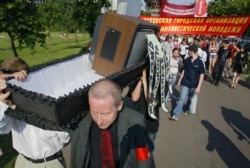 Demonstrators in Moscow carry a coffin with a television in it to protest government control over broadcasting (TASS file photo)


DO RUSSIANS LIKE THEIR GOVERNMENT? During a briefing at RFE/RL's Washington office on November 15, Richard Rose, director of the Center for the Study of Public Policy at the University of Aberdeen, discussed the results of 14 surveys he has conducted since 1992 on Russian public opinion about democracy and the country's development. He discussed the implications of these opinions for relations with the West and for Russia's 2008 presidential election.
LISTEN
Listen to the complete discussion (about 42 minutes):

Real Audio
Windows Media
RELATED ARTICLES
U.S. Election Expected To Chill Relations With Moscow
Are Mayors Next 'Power Vertical' Victim?
Monarchist Nostalgia Remains Powerful
Russian Election Commission Rejects Third-Term Appeal
Romanov Burial May Be Part Of Kremlin Image Campaign
ARCHIVE
All of RFE/RL's English-language coverage of
Russia
.


UPDATED CONSTANTLY: Visit RFE/RL's Russian-language website, featuring news, analysis, features, streaming audio, and more, in Russian, from RFE/RL's Russian Service.