Giga Bokeria, a leading parliamentarian and close ally of President Mikheil Saakashvili, warned that authorities will resort to force if the gathering turns violent.
The protest comes as Georgia's deputy prosecutor-general, Nika Gvaramia, unveiled what he said is new evidence against Okruashvili, who this week accused the president of personally ordering the murder of political opponents.
Gvaramia told a news conference the evidence was provided by a former presidential spokesman, Dimitri Kitoshvili.
"Precisely as a result of this cooperation, it became known that Irakli Okruashvili's actions contain elements not of extortion by an organized crime group, but of large-scale bribery by a state official through extortion," Gvaramia said. "Evidence provided by Mr Kitoshvili is presented here, and you are all welcome to see it. We think this evidence consolidates our position about this issue to the maximum."
One of the charges brought against Okruashvili on September 27 is connected to a corruption case in which Kitoshvili is accused of extorting a 2.6 percent share in a mobile-phone operator.
The deputy prosecutor-general said Kitoshvili was released from detention on bail following his testimony.
Okruashvili faces charges of extortion, money laundering, and abuse of office while serving as defense minister. But members of Georgia's opposition say his arrest is an attempt to silence a critic and dangerous political opponent.

Okruashvili on September 25 accused Saakashvili of ordering murders of his political opponents and establishing an authoritarian rule. He produced no evidence to support his allegations.
Saakashvili sacked Okruashvili in 2006 after he attacked Moscow for supporting Georgia's separatist regions of South Ossetia and Abkhazia.
Okruashvili this week launched his own opposition movement, For a United Georgia.
(RFE/RL's Georgian Service contributed to this report)
Georgia's Road To The West
Georgia's Road To The West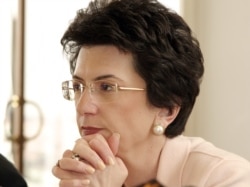 Georgian parliament speaker Nino Burjanadze giving a presentation at RFE/RL's Prague broadcasting center (RFE/RL)
BETWEEN RUSSIA AND THE WEST: Georgian parliament speaker Nino Burjanadze told an RFE/RL briefing that her country is under intense pressure from Russia.
LISTEN
Listen to the entire briefing (about 55 minutes):

Real Audio
Windows Media
RELATED ARTICLES
Georgian Speaker Reflects On Regional Relations
Is Putin's CFE Threat Aimed At The Caucasus?
EU Envoy Touts Georgian Confidence-Building Measures
SUBSCRIBE
For weekly news and in-depth analysis on Armenia, Azerbaijan, Georgia, and Russia's North Caucasus by e-mail,
subscribe to "RFE/RL Caucasus Report."