No clear winner was expected to emerge from the snap election to choose a new parliament, and protracted coalition talks to form a government were almost certain.
Polls opened at 7 a.m. local time as Ukrainians began voting to end months of feuding between the country's two main political leaders that left no side in a position to govern effectively.
Reports suggested that central election officials cited scattered incidents during the day but said otherwise voting was proceeding normally.
Official results were expected on the morning of October 1.
President Viktor Yushchenko's party appeared set for a dismal showing.
Polls suggest the bloc led by his pro-Moscow rival, Prime Minister Viktor Yanukovych, would win the most votes.
But Yushchenko was seeking a last-minute alliance with former Prime Minister Yulia Tymoshenko. The partnership could give their parties control of parliament if, together, they get more votes than Yanukovych's bloc.
But forging any coalition could mean weeks of negotiations.
'Eyes Focused On Us'
After casting his ballot shortly after polls opened in Kyiv, Yushchenko said he believed the elections "will bring Ukraine mutual understanding and tolerance between political forces, stability, and economic growth."
Yushchenko vowed to accept the results, providing the voting was "legal and fair," and added that he hoped all political forces accept the results.
He also said he hoped political leaders acted "according to their minds and not according to the wish to hurt their political opponents," RFE/RL's Ukrainian Service reported.
In a nationally televised address on September 29, the pro-Western Yushchenko said he thought the election process would meet international democratic standards.
"The whole world keeps eyes focused on us," Yushchenko said. "I am grateful to all of our partners and election monitors, who I am confident will be convinced that the election is in line with international standards."
Hundreds of monitors are overseeing the vote, including 700 from the Organization for Security and Cooperation in Europe (OSCE).
A group of Canadian election monitors said they were harassed and threatened on September 28 after investigating irregularities in ballot papers and voting lists in the eastern town of Mariupol.
Tapping Electoral Fears
In his televised remarks, Yushchenko said Ukainians face a choice between continuing to back his efforts to bring the country closer to Europe or turning it over to forces who "would bring back the past."
"Either you vote for changes in your lives or you vote to bring back the past and those who have divided us and freeload on the body of our nation," warned Yushchenko, whose early successes following the 2004 Orange Revolution quickly gave way to the bare-knuckled politics of survival. "I believe in your wise choice. I believe in the unification and victory of Ukraine's democracy. I call upon you, don't be indifferent, be confident of yourself and that your voice really matters. You are not voting for regional preferences, but you decide the fate of the country."
Yanukovych, for his part, said after voting in the capital that he was "sure we will win." He added that his party was ready to enter into a coalition with "pragmatic" political forces, although he did not specify any parties.
He said he believed there would be no turmoil after the election, even if there were some disputes over its outcome.
"In my mind, this is a test for whole Ukrainian nation," Yanukovych said. "I think there will be no more pre-term elections."
Political Gridlock?
Yanukovych's comments contrast with other recent statements he has made, however, including comments accusing both the president and Tymoshenko of preparing voter fraud. If that happened, Yanukovych said he could organize massive street protests similar to those during the Orange Revolution that swept Yushchenko to power.
Ukraine's government has been in political gridlock since March 2006, due to conflict between Yushchenko and Yanukovych.
But the bad blood between the two men dates to Yanukovych's defeat in the 2004 presidential race. That's when Ukrainians took to the streets in massive protests against election fraud in a series of events that was dubbed the Orange Revolution. Yushchenko later won in a court-ordered rerun of the presidential vote.
Tymoshenko, in an interview with RFE/RL's Ukrainian Service on September 28, said there is just one way forward.
"I think there is only one way: Democratic powers will finally form one team," Tymoshenko said. "Democratic powers will finally show high results for their work. Ukraine finally will build its European future. There is no other way for us."
In recent months, Yushchenko's stock appears to have fallen. Polls predict Yanukovych's ruling Party of Regions will receive the most votes today, with the opposition Yulia Tymoshenko Bloc in second place. The Our Ukraine-People's Self-Defense party, which is supported by Yushchenko, is expected to come in third.
More than 37 million Ukrainians were registered to vote ahead of the snap poll.
(with additional agency reports)
Perspective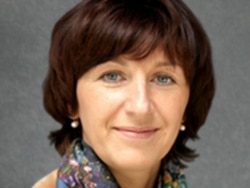 PERSONALITIES CLOUD ISSUES

By Olga Buriak,
Director, RFE/RL's Ukrainian Service

Discussions in Kyiv were much what you would expect right before an election. What will the new government look like? Who will end up in a coalition? Who will unite with whom? One possible theory making the rounds was that President Viktor Yushchenko and Ukraine's richest man, Rynat Akhmetov, have already struck a deal. Their parties -- the Our Ukraine-People's Self-Defense party and the ruling Party of Regions, respectively -- will put their differences behind them and form a coalition, naming a compromise candidate, current Foreign Minister Arseniy Yatsenyuk, as prime minister.
That leaves Yulia Tymoshenko in the opposition and perfectly primed for a presidential run in 2009. Current Prime Minister Viktor Yanukovych is the nominal leader of the Party of Regions, but his public standing is relatively weak, and there's reason to suspect he may soon stage an exit from the political scene.
But what's been most striking about this election is that it's not just the analysts and the political elite who are busy speculating about the outcome of the ballot. It's also the average Ukrainian citizen. The profile of the standard voter has changed a lot in the past two years, and it's reflected in the way the campaigns have been conducted.
Before the parliamentary vote in March 2006, the campaign was clearly directed at the country's upper and middle class -- intellectuals, academics, and other influentials with a fairly sophisticated and nuanced understanding of the way Ukrainian politics work. Those were the people who turned out to vote.
But everything that's happened since -- the ongoing fight over forming a coalition, the months without a government, and most recently the president's decision to dissolve parliament -- has driven those people away. They have grown completely disenchanted with politics. Recent polls in Ukraine show that public trust in the parliament and president are very low -- hovering around 10 percent. People have much greater faith in the church, the army, and the media.
It appeared very likely that on September 30, this rank of "influential" Ukrainians was going to stay away from the polls, or vote "against all" in protest.
The parties were aware of this, and shifted their campaigns to target the average Ukrainian voter -- working-class, less prosperous. The result has been a competition of promises. If one party comes out with a pledge to boost social welfare spending for mothers and children, another party comes out with a proposal that's twice as big.
Given the current budgetary situation in Ukraine, it's an irresponsible strategy, to say the least. So RFE/RL's Ukrainian Service adapted its programming accordingly. Last time, around we focused on the candidates. This time around, we were focusing on the issues -- to be specific, 20 issues important to Ukraine that we thought voters should know about. Every day we have examined an issue that's dividing Ukraine, or things that are missing in Ukraine.
Some of the topics we've covered include the economy, the military, language issues, the legacy of communism, and membership of the European Union and NATO. And our election-night coverage will focus not on politicians, but on ordinary Ukrainians, at home and abroad. We want this year's vote to be about the issues, not the personalities.