Mamontov has had a colorful career reporting from conflict zones since the 1990s and was the only Russian reporter allowed on the scene of the efforts to save the doomed crew of the "Kursk" nuclear submarine in August 2000. He was also the journalist behind the notorious "spy-rock" report alleging that British agents had attempted to gather intelligence by placing a large stone rigged with recording equipment on a Russian street. His latest report charges that the United States, having launched a war in Iraq that was ostensibly about democratizing the Middle East but was actually about oil, is engaged in an intricate campaign to snatch Russia's natural resources under a covert effort masked by democratic slogans and rhetoric.

Moreover, Mamontov casts a wide net in his claims concerning who is abetting the CIA's plot. Youth groups, opposition politicians, Russian and international NGOs, "pro-Western" mass media, and others are all depicted in slick graphics as embodying a vertical structure stretching from Langley to the U.S. Embassy in Moscow to the streets of Nizhny Novgorod and other Russian cities. The report specifically mentions the National Endowment for Democracy, the Eurasia Foundation, Freedom House, the Open Society Institute, RFE/RL, and the U.S. Agency for International Development as players in the plot.
Meanwhile, an unsuspecting Russia is depicted with bucolic images of Siberia, scenic flyovers of Orthodox monasteries, and glittering cascades of diamonds from the mines of the Sakha (Yakutia) Republic.

Creating A Climate For Manipulation

But the fact that state-controlled television devoted a plum piece of Sunday evening prime time to this production should not be taken to mean that the Kremlin feels shaken or has lost confidence in its control of the political process. Instead, the authorities are using their iron control over the mass media to create a climate of public opinion and public expectation that will best facilitate their manipulation of the political process over the next six to eight months as Russia elects a new Duma and as the March 2008 presidential succession problem is resolved one way or another.

On a practical level, scare-mongering along the lines of Mamontov's piece creates a climate of receptivity for actions that will almost certainly become necessary on both the local and national levels -- actions such as eliminating candidates and parties from elections, arresting or opening investigations against opposition figures, pressuring or closing down media outlets, cracking down on demonstrations, and other typical machinations of "managed democracy." The scattershot nature of Mamontov's accusations shows that fostering such a climate is a primary goal of the piece.

In fact, Mamontov's piece launches a preemptive justification for police violence against demonstrators by claiming that Western hirelings view being beaten as a badge of courage and therefore provoke police officers, who, after all, are only human and might sometimes exceed their orders.

In addition, media reports such as Mamontov's will likely have a dampening effect on Western criticism of Russian political and civil-society developments. Western governments and bodies like the Organization for Security and Cooperation in Europe will likely tone down their already mild comments in the face of stepped-up accusations of interference in Russian domestic politics. And, if they don't, Russian state media will have a ready-made friendly context in which to place their reports of such criticism.

Strategy Of 'Managed Instability'

On a broader level, however, pieces like "Barkhat.ru" play to a widespread feeling among many Russians that, indeed, the country is surrounded, and even infiltrated, by enemies that seek to destroy it as a country. Mamontov interviews a historian who says the West seeks to prevent Russia from "getting up off its knees" and hints that the United States has sought the dismemberment of Russia for decades.

Similar fears played well during President Vladimir Putin's rise to power in late 1999, when the authorities launched the second war in Chechnya and a series of still-unexplained apartment-building bombings killed scores in Moscow and several provincial cities. Most concerns (both in Russia and abroad) about the prospect of a KGB product taking over the Kremlin were swept aside by the clamor for a strong hand to thwart an existential threat to the country.

In January, political analyst Gleb Pavlovsky wrote that the siloviki -- the products of the state security organs who have come to preeminence under Putin -- might resort to a policy of "managed instability" in a bid to make a third term for Putin more palatable and, even, inevitable.

In short, although the prospect of a velvet revolution in Russia is remote, the Kremlin feels the need to invent the threat of one. Doing so greatly increases its freedom of action and bolsters it mightily against critics at home and abroad.

Moscow And Washington: Toe To Toe
Moscow And Washington: Toe To Toe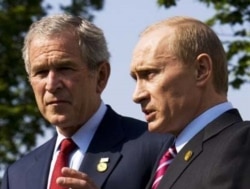 U.S. President George W. Bush (left) and Russian President Vladimir Putin at the G8 summit in Germany on June 7 (AFP)

MOUNTING TENSIONS. Relations between Russia and the United States have grown increasingly tense in recent months as issues like missile-defense, Kosovo's status, and Russia's domestic policies have provoked sharp, public differences. On June 5, U.S. President George W. Bush said democratic reforms in Russia have been "derailed"....(more)
RELATED ARTICLES
Silent Diplomacy Versus Public Criticism
Analysts Say New Arms Race Unlikely
Moscow's Patience With U.S., Allies 'Wearing Thin'
Russian Parliament Accuses U.S. Of Election Meddling
MORE: A special archive of RFE/RL's coverage of U.S.-Russian relations.