Mahmud al-Mashhadani made the comment in an interview at RFE/RL's headquarters in Prague today.
The United States and Iraqi officials have accused Iran of smuggling sophisticated weapons to Iraqi militants fighting U.S.-led forces.
Al-Mashhadani described Iranian influence in Iraq as "clear and present," but said that Iraq's parliament could only urge Tehran not to interfere.
He said the ideal solution would be to disband the militias.
"Then, how can Iran or anybody else other than Iran be able to interfere in our affairs if there is no platform for the interference?" he said. "If all rivals are brought to the parliament and to the political arena, and all the militia-like or terrorist groups that reject the political process are decapitated, then no one will be able to interfere in our internal affairs. We act in terms of this philosophy and agenda."
'Progress' Countering Al-Qaeda
In other comments, al-Mashhadani described as a great achievement the separation of some Sunni insurgent groups from Al-Qaeda.
In recent months, some groups that previously fought Iraqi and U.S.-led forces have turned against Al-Qaeda in Iraq.
"Now, we are on the way to opening talks with them so that they can join the political process," Al-Mashhadani said.
"There are some obstacles. There are some people from the resistance who have got involved in certain crimes similar to Al-Qaeda. There is dialogue on how we should deal with this group whose majority -- we believe -- can be drawn into the political process. Through that, we would put an end to military operations, for instance by setting a timetable for a real withdrawal, sovereignty, and a full independence. We see that their demands are reasonable and Iraqi [reflect Iraq's interests]."
In a separate interview with RFE/RL's Radio Free Iraq, al-Mashhadani urged the country's various warring groups to reconcile, saying that "failure to achieve this means we will have a worse scenario than the present situation."
Iraqi Insurgent Media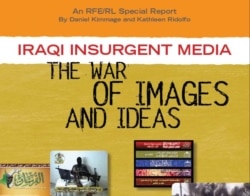 GETTING THE MESSAGE OUT. RFE/RL analysts Daniel Kimmage and Kathleen Ridolfo have produced a book-length study on the media efforts of the insurgency in Iraq and on how global jihadists are exploiting those efforts to spread their destructive message around the world....(more)
DOWNLOAD
(pdf format):
Part One Part Two Part Three Part Four Part Five



THE COMPLETE STORY: RFE/RL's complete coverage of events in Iraq and that country's ongoing transition.