The downward spiral of Russia's liberals since 1991 has been truly spectacular. "Liberal democratic forces have steadily lost ground in Russia since the 1993 Duma elections," Nixon Center analyst Nikolas Gvosdev wrote in "The International Journal Of Security Affairs" in late 2006. "The 2005 Moscow city elections should have been a wake-up call. The liberals tried to make this ballot a 'referendum' on democracy, yet, in the richest, freest, most liberal, best-educated city in the country, under conditions far less onerous than those in 1990, when the demokraty were swept into power, these forces received just one-fifth of the vote. It was not a particularly ringing endorsement of the notion that liberals are waiting in the wings."
The fact that this decline is not just a Putin-era phenomenon -- and in view of Russia's millennium-long history of totalitarian rule -- has led Gvosdev and others to speak of a "democracy paradox" in Russia. That is, given a free choice, a majority of Russians would choose some sort of antidemocratic form of government. The term "democracy paradox" was originally applied primarily to countries in the Middle East and elsewhere where religiously conservative majorities, given the chance to express their will, would in many cases choose profoundly antidemocratic regimes. It therefore seems strange to use the term in Russia, which is hardly known for the domination of religious conservatism (although the semi-official Russian Orthodox Church is profoundly conservative and nationalist).
Core Democratic Values
Indeed, although studies have shown that Russians have a weaker adherence to many typical democratic values, the lack of support is not nearly as profound as it is in most of the countries to which the term "democracy paradox" is normally applied. Just this week, the Pew Research Center issued a global opinion study showing not-insubstantial support for what the study calls "core democratic values": Thirty-four percent said they think the ability to criticize the authorities freely is important, while the same percentage agreed that it is important to maintain civilian control over the armed forces; 40 percent oppose media censorship; 41 percent value fair, multiparty elections; 45 percent consider freedom of religion important; and 70 percent think having an impartial legal system is important. While these results are far below what one would find in democratic countries and even below the average among the 35 developing and transitioning countries included in the Pew study, they seem fairly impressive in the current Russian context.
Indeed, although studies have shown that Russians have a weaker adherence to many typical democratic values, the lack of support is not nearly as profound as it is in most of the countries to which the term "democracy paradox" is normally applied.
Last month, a poll by the All-Russia Center for the Study of Public Opinion (VTsIOM) found that just 26 percent of Russians think the central government should be further strengthened, although 51 percent favor President Vladimir Putin's aggressive foreign policies. Thirty percent said Russia needs further democratization, free elections, and independent media. Again, in the Russian context, these are solid numbers that belie the fact that the liberal SPS and Yabloko parties are likely to poll just 1 or 2 percent in December's elections.
What is "the Russian context" and how might the collapse of liberal political forces be explained? Speaking at an RFE/RL conference devoted to the first anniversary of the murder of investigative journalist Anna Politkovskaya on October 4, a deputy editor at "The Economist," Edward Lucas, said the killing "was a symptom of a process that probably started, in a way, back in 1991 when they failed to liquidate the KGB." As the rise of Putin and the siloviki -- officers and agents of the secret services -- has shown, that process has been the dominant (although for years, little noticed) trend of Russia's political development through the post-Soviet period.
One important characteristic of Russia's managed political system -- both at the federal and the local level -- is the nearly universal practice by executive-branch incumbents to use all means at their disposal to prevent the emergence of credible alternatives to their administration. Boris Yeltsin -- increasingly as his term in office wore on -- was guilty of this, and he tolerated it among regional leaders. As a result, post-Soviet Russian elections generally have presented voters with a choice between the status quo and a fragmented collection of unknowns, some of whom were clearly planted "opponents" carrying out precisely scripted political functions for the incumbent.
Between Stability And Chaos
In addition, the emerging silovik-dominated system has largely successfully managed to reduce most public political choices to one between stability and chaos. This tactic was wildly successful during Yeltsin's 1996 reelection campaign, and was reapplied in the 2000 transition election. Although it proved less necessary during the reelection year in 2004, there are signs that fear mongering is making a comeback in the current cycle. Russian media have produced a steady stream of materials accusing the West of meddling in the political system to steal Russia's natural resources or even to break the country up, while various themes -- corruption, extremism, foreign-based bugbears such as Boris Berezovsky and Leonid Nevzlin, purportedly impending international crises such as a conflict involving the United States and Iran, etc. -- are often used to argue or imply that a firm hand is needed in the Kremlin.
All this has been accompanied by concerted and partially successful efforts to discredit liberal-democratic ideas. These efforts, of course, were greatly facilitated by the incompetence, arrogance, and avarice of many representatives of the liberal camp, as well as the often-counterproductive role of the West during the 1990s. Unexposed and unreconstructed siloviki in business circles, in the Duma, in the media clearly played a role in undermining liberal initiatives and attributing their failures to democrats and their ideas.
The fact that one-third to two-fifths of Russians still adhere to liberal-democratic values in the face of all the events of the last 15 years is remarkable. And the siloviki also seem to feel their success has been tenuous. In recent years, the government has reacted harshly to even the most hopeless manifestations of opposition. The nascent political efforts of Mikhail Khodorkovsky were quashed; when Berezovsky tried to set up the Liberal Russia party, it was hounded and its charismatic leader, Sergei Yushenkov, was shot dead in Moscow in 2003; when Arkhangelsk Mayor Aleksandr Donskoi announced a quixotic bid for the presidency, he suddenly faced a barrage of attacks and criminal charges.
In short, the "democracy paradox" in Russia -- the collapse of a realistic liberal-democratic alternative and the strong public support for firm central rule -- is a product of a profoundly undemocratic political environment. It is an illusory paradox in the same way that Russia is an illusory democracy, and it is important that observers in Russia and the West resist the Kremlin's predictable effort to cast the coming landslide for the status-quo Unified Russia party and for Putin's handpicked successor as a popular mandate for authoritarianism.
Russia's Democratic Development
Russia's Democratic Development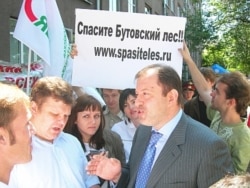 Demonstrators speak with local politicians in Butovo about the destruction of a local forest in July 2006 (RFE/RL)

IS RUSSIAN DEMOCRACY MANAGING? Russian President Vladimir Putin has said Western powers seek to pressure Russia under the pretext of concern over its democratic development. He has said Russia is ready to listen to "well-intentioned criticism," but will not allow anyone to interfere in its internal affairs. The Kremlin has been criticized for stifling political oppostion, increasing central control over the media, and cracking down on the work on nongovernmental organizations.
RELATED ARTICLES
Concerns Raised About Moscow Chairing Rights Committee
Using Racism Is A Time-Honored Kremlin Tool
Putin Comes Under Fire At Global Media Congress
Oligarch's Case A Sign Of The Times
'Letter Of 100' Warns That Putin Is Suppressing Democracy
A Hard-Line Agenda For Putin's Second Term
Book Says Putin's Russia Falls 'Between Democracy and Dictatorship'
NGOs Denounce Status Changes As Move To Curb Activities
Scrutiny Of Foreign Funds Hurts Democracy Programs
U.S. Official Says Russian NGO Law Part Of Antidemocratic Trend

SUBSCRIBE
For news and analysis on Russia by e-mail,
subscribe to "RFE/RL Russia Report."