Kazakh authorities have for weeks been threatening to fine Eni, the Italian company running the consortium, and abrogate a lucrative 1997 oil development contract because of delays and ballooning estimates of start-up costs.
But statements following today's visit to Kazakhstan by Italian Prime Minister Romano Prodi suggest that the Eni-led group will maintain its contract to develop Kazakhstan's Kashagan oil field in the Caspian Sea.
"The framework that President Nazarbaev has given is an extremely positive approach which can be an instrument for finding a future agreement." -- Italian Prime Minister Romano Prodi
Kashagan is believed to be the largest oil deposit found since the 1970s -- worth tens of billions of dollars.
Work at the field was suspended in August due to official complaints of environmental damage, but skeptics believed other factors were involved. Many suspect the real reason was Eni's announcement, just prior to the suspension, that production at Kashagan would start two years later than expected -- in 2010 instead of 2008 -- and that the cost of the start-up would be $136 billion, nearly 2 1/2 times the initial pledge of $57 billion.
Eni and Kazakh officials have spent weeks in talks to resolve the standoff, culminating in Prodi's meeting today with Kazakh President Nursultan Nazarbaev in Astana.
Following the meeting, Nazarbaev announced that there will be no review of the Eni contract. But he also warned that delays and cost overruns are hurting his country.
Eni "has presented to the Kazakh government a new budget forecast that increases the expenditure by $100 billion and moves the beginning of oil production from 2005 to 2010," Nazarbaev said. He said that officials believe the new budget forecast means the loss of a lot of money that "is already included in our strategic plans for economic development and improving social conditions for our people."
A New Deal For Kazakh State Oil
Nazarbaev said a new deal is being negotiated with Eni officials that will probably result in Kazakhstan's state oil company, KazMunaiGaz, becoming a co-operator of Kashagan. KazMunaiGaz is already a member of the Eni consortium. Eni and Kazakh representatives are said to be negotiating details of the new deal in talks that are expected to conclude later this month.
Kazakh authorities have also suggested that Eni will face fines for production delays and environmental damage. Nazarbaev gave a general reminder that any delays or damage could jeopardize future deals with his country.
"If investors violate the contracts they have signed, Kazakhstan reserves the right to take measures in accordance with national legislation," he said.
Prodi said that "the framework that President Nazarbaev has given is an extremely positive approach which can be an instrument for finding a future agreement." He also said he expects officials at the Italian oil giant that leads to consortium to be amenable to the changes. "Eni, for its part, is ready to interact, is ready to take into consideration these conditions, and is ready to continue in a very long and fruitful collaboration with Kazakhstan," he said.
Despite signs that senior political contacts led to today's apparent breakthrough, Nazarbaev sought to distance himself and Prodi from any direct role in the Eni consortium's venture. "These are commercial negotiations that concern neither the Kazakh president nor the Italian prime minister. We will allow these commercial negotiations to continue to their conclusion," Nazarbaev said.
But in a country where Nazarbaev holds all the reins of power, the presidential imprimatur makes it unlikely that Kazakh officials will now cancel the contract.
Eni chief executive Paolo Scaroni visited Kazakhstan at the end of September, but did not appear to advance his company's case.
But Prodi seems to have assuaged the most serious of Kazakh complaints -- at least for now.
The Eni-led consortium comprises Royal Dutch Shell, U.S. Exxon Mobil and ConocoPhillips, French Total, and Japan's Inpex -- as well as KazMunaiGaz.
Energy-rich Kazakhstan has seen more than $40 billion in foreign direct investment since 1993, but has recently pursued an aggressive strategy to attract further foreign participation in its rapidly growing economy.
(RFE/RL Kazakh Service Director Merhat Sharipzhan contributed to this report)

Exporting Kazakhstan's Energy
Exporting Kazakhstan's Energy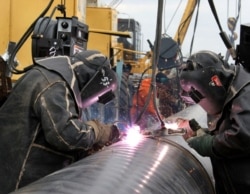 Work on a Kazakh pipeline (TASS file photo)


PRESSURE FROM THE KREMLIN? Columbia University political science professor Kimberly Marten told an RFE/RL briefing that Russia seems to be using its control of gas pipelines in the former Soviet Union to pursue its goals in Kazakhstan.
LISTEN
Listen to the entire briefing (about 60 minutes):

Real Audio
Windows Media
RELATED ARTICLES
The Emerging Post-Soviet Petrostates
Nazarbaev, Merkel Discuss Energy, Bilateral Ties
Nazarbaev Talking Energy, Economic Cooperation On China Visit
ARCHIVE
RFE/RL's coverage of
Kazakhstan
.