Environmental Protection Minister Nurlan Iskakov said the government has shut down work at Kashagan for three months because questions about "environmental protection are not being answered."
Eni has faced increasing government pressure in recent months due to rising costs and production delays at the Kashagan site. Kazakhstan warned it could re-examine Eni's contract after Eni delayed the start of production from 2008 to 2010 and raised its cost projection from $57 billion to $136 billion.
The Kashagan oil field in the northeastern Caspian Sea has been described as one of the largest oil discoveries of the past 30 years.
(AFP, Reuters)

Exporting Kazakhstan's Energy
Exporting Kazakhstan's Energy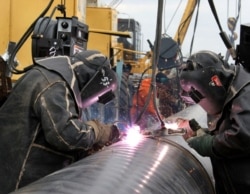 Work on a Kazakh pipeline (TASS file photo)


PRESSURE FROM THE KREMLIN? Columbia University political science professor Kimberly Marten told an RFE/RL briefing that Russia seems to be using its control of gas pipelines in the former Soviet Union to pursue its goals in Kazakhstan.
LISTEN
Listen to the entire briefing (about 60 minutes):

Real Audio
Windows Media
RELATED ARTICLES
The Emerging Post-Soviet Petrostates
Nazarbaev, Merkel Discuss Energy, Bilateral Ties
Nazarbaev Talking Energy, Economic Cooperation On China Visit
ARCHIVE
RFE/RL's coverage of
Kazakhstan
.