Far from offering the warm embrace shown Moscow by his predecessor, Jacques Chirac, the 52-year-old Sarkozy has been nothing short of blunt in expressing his views on Russia -- whether its foreign, energy, or security policies.
Nor has the new French leader minced his words on Vladimir Putin, whom Sarkozy, during his election campaign last spring, said was "covered in blood" due to his war policies in Chechnya.
Regardless of whether Putin recalls that provocative comment when he welcomes Sarkozy to the Kremlin for a two-day visit starting on October 9, there's little doubt the Russian leader has noted the new tone in Paris since Sarkozy moved into the Palace d'Elysee on May 16.
"France speaks openly about things that it doesn't like about recent developments in Russia," says Jacques Rupnik, a French political scientist. "President Sarkozy even used the word, there's a certain 'brutalization' of Russian politics. Well, this is not exactly [the] diplomatic language we were used to. So, yes, that is a change, there is a greater sensitivity to the problems of internal democratic developments in Russia."

Embracing Eastern Europe
For an idea of where Paris now stands vis-a-vis Russia, consider how Sarkozy spent the run-up to his official visit to Moscow.
After visiting Hungary, his father's native land, in September, Sarkozy traveled to Bulgaria on October 4. Standing before reporters in Sofia, Sarkozy, in a comment perhaps never before made by a French president, announced that he is "half-Eastern European."
To many in the region, it was a clear statement of solidarity with the former "captive peoples" of the ex-Soviet bloc. But Sarkozy then accused Russia of "complicating" the world's problems in a thinly veiled reference to Moscow's stance on Kosovo.
The next day, on October 5, Sarkozy welcomed to Paris pro-Western Ukrainian President Viktor Yushchenko, whose tussles with Russia have become in a way emblematic of the struggle of ex-Soviet republics to emerge from Moscow's shadow.
Perhaps to drive home the point before meeting Putin, Sarkozy is today in talks with the leaders of new EU members Poland and the Czech Republic, two former Soviet satellites well-known for their deep-seated suspicions of Moscow.
Andre Glucksmann, a French philosopher and commentator, says that from the start of his election campaign Sarkozy made it clear he would seek to put freedom and human rights at the center of his foreign policy.
"The difference with Chirac, the previous president, is that Sarkozy prefers the new members of the European Union to Putin" Glucksmann says. "And of course you know that Chirac was a very good friend of Putin, whom he awarded with the highest award of the republic [the Legion of Honor award] about [two weeks] before the assassination of Anna Politkovskaya."
Sending A Clear Message To Moscow
Sarkozy's separate talks in Paris today with Poland's Lech Kaczynski and Czech Prime Minister Mirek Topolanek also send a message to Moscow.
Both countries are in the process of negotiating the hosting of elements of a U.S. missile-defense shield that Putin vehemently opposes and calls part of a NATO design to encircle Russia.
French officials have said the talks were not scheduled deliberately ahead of Sarkozy's Moscow trip. But according to French media reports, Kaczynski will be pushing for French support for the missile base, as well as backing for Georgian membership in NATO, into whose military structure Sarkozy also hopes to return France.
Topolanek is expected to discuss European policies with Sarkozy, as both countries are set to drive upcoming EU policy. In July, Paris assumes the six-month rotating EU Presidency, with Prague taking over in January 2009.
Under Chirac, France had been cool to both the U.S. missile-defense plan and NATO offering Tbilisi a Membership Action Plan, a first step toward joining the trans-Atlantic military alliance.
On Georgia, Glucksmann believes Sarkozy has already made clear his change of heart. "Sarkozy has hosted [Georgian President Mikheil] Saakashvili, while the previous president, Chirac, always refused to," he says.
During talks in Moscow last month, French Foreign Minister Bernard Kouchner reportedly did not discuss either missile defense or Georgia's NATO plans. Some observers suggested that meant Paris has higher priorities with Moscow -- such as Iran, energy, and Kosovo, which France wants to see achieve independence.
Of course, French diplomats say the country's deepening relations with Eastern Europe have nothing to do with policy toward Russia. And it remains unclear whether France will accept any of the requests from Poland or the Czech Republic.
But Sarkozy's weeklong embrace of Eastern Europe and consistent criticism of Russia do suggest he's unlikely to swap principles for Russian support on any single issue -- even after the gates of the Kremlin welcome him on October 9.
(Andre Glucksmann and Jacques Rupnik spoke with RFE/RL on the sidelines of the annual Forum 2000 conference in Prague, which brings together politicians, businesspeople, and academics to discuss themes of social concern. This year, the theme is "Freedom and Responsibility.")
Thinking Strategically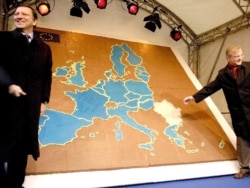 EU officials discussing enlargement at a meeting in December 2006 (epa)
OVER THE NEXT HURDLE: Bruce Jackson, president of the Project on Transitional Democracies, gave RFE/RL a wide-ranging presentation on issues related to European integration in the Balkans and Eastern Europe, as well as strengthening relations between the West and Central Asia.
LISTEN
Listen to the entire briefing (about 60 minutes):

Real Audio
Windows Media
RELATED ARTICLES
Kremlin Sees Its Foreign-Policy Star On Rise
Brussels Mulls Over Its Energy Sources
Experts Ponder Future 'Gas Wars'
The Fate Of The Multivector Model In Central Asia
SUBSCRIBE
For daily news updates from throughout RFE/RL's broadcast region by e-mail,
subscribe to "RFE/RL Newsline."