Now, however, the bloc is showing signs it is determined to present a united front.
Ahead of the latest EU-Russia summit in the Volga River city of Samara, Brussels stood behind new member state Poland. Warsaw has blocked talks with Moscow on a strategic partnership agreement in response to a Russian ban on Polish meat imports.
The bloc has likewise backed Estonia, which was drawn into a hostile standoff with Russia over its decision to relocate a World War II statue from the center of the capital Tallinn.
Lithuania, which had oil supplies from Russia unceremoniously cut off, also sought and received support from Brussels.
"Be it Warsaw, Berlin, or Paris, some restraint on the part of national governments is a precondition for forging a common position."
Russia's response has been one of disdain, with Moscow accusing the EU of caving in to its new member states, many of whom are former Soviet satellites.
On the eve of the Samara summit, Russia's ambassador to the EU, Vladimir Chizhov, said the EU was uniting itself around "the lowest common denominator." He also accused new member states of attempting to dictate EU policy as payback for their "phantom" pains of the past.
Criticism notwithstanding, German Chancellor Angela Merkel and European Commission chief Jose Manuel Barroso made clear in Samara the EU will stand by its member states.
New Members, New Relations
It is true that the new member states have been behind much of the recent trouble between Moscow and Brussels. Some observers in the EU capital, however, say Russia and the administration of Russian President Vladimir Putin are themselves to blame.
Antonio Missiroli, a senior analyst with the European Policy Center in Brussels, says Moscow has alienated its friends and thus contributed to the emergence of a united EU front against itself.
"Russia's behavior over the past few weeks and months has to a certain extent facilitated the difficult task of forging a common European position. Those countries [which] were less critical of Moscow, and more forthcoming vis-a-vis President Putin, have realized that the conduct of Russian foreign policy leaves much to be desired, and therefore are more ready to converge on the position that was expressed by Merkel and Barroso [in Samara]," Missiroli said.
Expressions of solidarity are one thing. But will the EU go beyond rhetoric to making concrete policy decisions?
Poland and the Baltic states, for example, have long contended that the EU must resist Russian attempts to circumvent their territories with new oil and gas pipelines. They also argue the EU must strive to decrease its dependence on Russian energy.
Another Brussels analyst, Michael Emerson of the Center for European Policy Studies, says the EU will be forced to keep politics and business separate.
"I think you're going to move now into a situation where there's an increasingly clear dichotomy between 'biznis' and politics. The business is bound to go on, the oil [and] gas exports and Russia's imports [from the EU] out of their earnings are growing at a fantastic rate. There is big business on both sides and nobody wants to stop that," Emerson says.
This view is echoed by an article in today's "International Herald Tribune," which quotes executives from three of Europe's largest gas companies urging the EU not to let political differences with Russia interfere with the energy trade.
Emerson says the EU's current accommodation of its new members' disputes with Russia may only be temporary, and that countries like Poland and the Baltic states may eventually be expected to refrain from aggravating Moscow further.
EU-Russia relations, Emerson adds, are "not black and white." He notes that not too long ago, the same Polish meat products now banned by Russia had problems meeting EU standards as well. Estonia, he adds, could have relocated the World War II memorial in a less confrontational manner.
Leverage Against Russia
Still, Emerson says, if EU-Russian relations are at a low point, it is primarily because of what he calls Russia's "overreaction" to irritants.
He includes Russia's import ban on Moldovan wines and its trade embargo on Georgia in his list of Russian "overreactions."
Missiroli warns that even political solidarity within the EU is not sustainable unless some of the more outspoken member states exercise "restraint."
"[Continuing to speak with a 'single voice'] requires a certain restraint on the part of the member states. That is, it is very difficult to forge a common consensus, to be seen as a point of convergence among the 27 [EU member states], if some individual member states move ahead and make inflammatory declarations -- or, the other way around, preach the need for an early compromise with Moscow without negotiating, discussing with the partners," Missiroli says.
"In other words, be it Warsaw, Berlin, or Paris, some restraint on the part of national governments is a precondition for forging a common position."
Missiroli notes that the EU has "very little" short-term leverage against Russia. It needs Russian energy, but also Moscow's cooperation as a permanent member of the UN Security Council on issues like the future of Kosovo and other international issues.
Russia also holds the key to resolving the "frozen conflicts" in the EU's neighborhood. Emerson says EU member states, seeing relations with Russia deteriorating, are now likely to increase their support for Ukraine, Moldova, and the three South Caucasus countries.
However, he says that support is going to be limited to "technical improvements" in cooperation and will not entail any new political commitments.
Both Emerson and Missiroli say much in EU-Russia relations will depend on the course chosen by France's new president, Nicolas Sarkozy.
Missiroli also notes that the EU's next presidency, Portugal, will not be "particularly assertive" with regard to Russia, preferring to shift the union's focus to Africa and immigration concerns.
Russia And The EU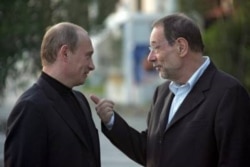 Russian President Vladimir Putin (left) with EU foreign policy representative Javier Solana in Sochi in May 2006 (epa)


A POLICY OF APPEASEMENT? Ralf Fuecks, head of the Heinrich Boell Foundation and a Green Party activist, spoke at RFE/RL's Prague broadcast center about the EU's complex relations with a resurgent Russia. RFE/RL President Jeff Gedmin moderated the discussion.
LISTEN
Listen to the entire briefing (about 60 minutes):

Real Audio
Windows Media
RELATED ARTICLES
Moscow Hosts PACE Standing Committee
Brussels Mulls Over Its Energy Sources
Council Of Europe 'Convinced' Of Chechnya Torture
ARCHIVE
RFE/RL's coverage of
Russia
.