The agenda reads like a long list of disagreements -- most of them unlikely to be resolved at the Samara meeting.
Nevertheless, European Union officials in recent days have defended the Samara summit as an opportunity for talks. German Foreign Minister Frank-Walter Steinmeier, whose country holds the EU's rotating presidency, put on a brave face after an EU foreign ministers' meeting in Brussels on May 14.
"Is it the right time for a European-Russian summit? I am very happy that today, in the [foreign ministers' meeting], no one proposed that we cancel the summit," Steinmeier said. "I personally hold the belief that we need talks precisely when times are more difficult."
The most notable omission on the summit agenda is a possible meeting on a new strategic partnership agreement. In spring 2006, at a summit in Sochi, both sides agreed that such an agreement is necessary. However, Poland has blocked talks since November 2006 in protest at a Russian ban on its meat and plant imports.
"We need talks precisely when times are more difficult," Steinmeier said.
In recent weeks, Lithuania has threatened to add its own veto over disrupted Russian oil deliveries to its Mazheikiu oil refinery, which was sold to a Polish company in 2006, passing over a Russian bidder.
Estonia has also hinted it may consider a veto over what it describes as unjustified and partly illegal Russian retaliation for the relocation of a World War II memorial in Tallinn.
In the absence of a new accord, the current Partnership and Cooperation Agreement (PCA), set to expire on December 1 this year, is likely to stay in force.
The PCA is automatically renewed on an annual basis unless one of the parties revokes it. The EU has said it has no intention of doing so, and the Russian ambassador in Brussels, Vladimir Chizhov, told journalists on May 15 that Moscow also wants to extend it. Chizhov explained that the "relationship is simply too important for both sides."
However, EU officials in Brussels suspect Moscow may welcome the Polish meat dispute as a convenient pretext to avoid negotiating a new accord that would limit its freedom to maneuver in the energy trade and other fields.
Internal EU affairs
Ambassador Chizhov on May 15 said the blockage of talks on a new partnership agreement is a "purely internal" EU problem -- indicating Russia expects the bloc to prevail on Poland to back down.
Chizhov denied Russia is treating the EU's new member states differently from how it treats the rest of the bloc.
Overall, Russia is keen to downplay the effect of its tensions with some new member states on the larger EU-Russia relationship. After meeting German Foreign Minister Steinmeier in Moscow on May 15, Russian President Vladimir Putin denied any "conflicts" exist between the two sides.
"Thank God we don't have any conflicts. We have different opinions on how to resolve some problems, but both sides are willing to resolve those problems," Putin said.
But tensions also abound in areas that have little to do with the impact of new members in the EU.
The EU wants Russia to agree to collaborate on an "early warning system" to avoid disruptions in energy supplies. Over the past two years, Russian energy disputes with transit countries have led to cuts in supplies to the EU.
The EU also wants Russia to agree to guarantees protecting Western investments, and wants Russia to speed up the ratification of an earlier deal abolishing costly charges for Siberian overflights by EU air carriers.
Both EU requests are also preconditions for the bloc's green light to Russia's entry into the World Trade Organization, or WTO. EU diplomats in Brussels say Moscow's WTO ambition is a rare remaining lever for the EU to influence Russian policies.
The EU is increasingly dependent on Russia's goodwill in the global arena. One of the key points on the EU agenda is the future of Kosovo. Russia opposes a U.S.-backed UN plan to give the Serbian province independence.
German officials said on May 16 that human rights issues will also be raised by the EU. Issues surrounding freedom of assembly, obstacles to the work of nongovernmental organizations, and the unresolved murders of journalists are likely to top EU rights concerns.
Russia And The EU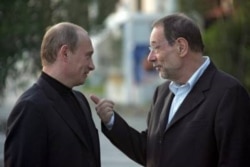 Russian President Vladimir Putin (left) with EU foreign policy representative Javier Solana in Sochi in May 2006 (epa)


A POLICY OF APPEASEMENT? Ralf Fuecks, head of the Heinrich Boell Foundation and a Green Party activist, spoke at RFE/RL's Prague broadcast center about the EU's complex relations with a resurgent Russia. RFE/RL President Jeff Gedmin moderated the discussion.
LISTEN
Listen to the entire briefing (about 60 minutes):

Real Audio
Windows Media
RELATED ARTICLES
Moscow Hosts PACE Standing Committee
Brussels Mulls Over Its Energy Sources
Council Of Europe 'Convinced' Of Chechnya Torture
ARCHIVE
RFE/RL's coverage of
Russia
.