Sergei Yastrzhembsky, a top aide to President Vladimir Putin, acknowledged that there are problems between Russia and the European Union, but said they do not constitute a crisis.
"Reports of a crisis in relations between Russia and the European Union are more than exaggerated. I think, on the whole, Russian-EU relations are developing quite well," Yastrzhembsky said at a news conference in Moscow on May 16.
In recent months, Russian-EU relations have been damaged by a series of disputes. Bloc member Poland says it will veto an EU partnership agreement with Russia unless Moscow lifts a ban on Polish meat imports. Relations between Russia and EU member Estonia have deteriorated over the removal of a Soviet-era World War II monument from central Tallinn.
Yastrzhembsky says the problems between Moscow and Brussels are "natural in relations between global players."
Yastrzhembsky made his comments a day after a May 15 meeting between Putin and German Foreign Minister Frank-Walter Steinmeier, whose country currently holds the EU Presidency.
The Steinmeier-Putin meeting was an attempt to ease tensions prior to an EU-Russia summit scheduled for May 18 in the southern Russian city of Samara.
(Reuters, AFP)

Russia And The EU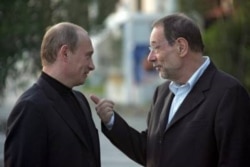 Russian President Vladimir Putin (left) with EU foreign policy representative Javier Solana in Sochi in May 2006 (epa)


A POLICY OF APPEASEMENT? Ralf Fuecks, head of the Heinrich Boell Foundation and a Green Party activist, spoke at RFE/RL's Prague broadcast center about the EU's complex relations with a resurgent Russia. RFE/RL President Jeff Gedmin moderated the discussion.
LISTEN
Listen to the entire briefing (about 60 minutes):

Real Audio
Windows Media
RELATED ARTICLES
Moscow Hosts PACE Standing Committee
Brussels Mulls Over Its Energy Sources
Council Of Europe 'Convinced' Of Chechnya Torture
ARCHIVE
RFE/RL's coverage of
Russia
.