At least this is the hope the EU's foreign-policy chief, Javier Solana, expressed after talks with Russian Foreign Minister Sergei Lavrov in Luxembourg on April 23.
"We're still hopeful that we can arrive [at] an agreement to launch the negotiations at the summit for a new overall agreement between the European Union and Russia," Solana said. "This is our objective and we hope that this is the objective -- we are sure this is also the objective of our Russian partners."
Only One Of Many Obstacles
However, the EU's hopes suffered a severe blow after a high-level meeting of EU and Russian experts in Cyprus on April 21-22 failed to reach agreement over the Polish produce dispute. Russia argues that Polish exports do not meet its food-safety standards, while Poland thinks the ban is politically motivated.
Lavrov said in Luxembourg that "many other" EU countries have similar problems -- suggesting they may face similar action.
Speaking for the current holder of the EU Presidency, German Foreign Minister Frank-Walter Steinmeier appealed to the legacy of former Russian President Boris Yeltsin, who died on April 23, saying the EU-Russian rapprochement instigated by Yeltsin was too precious to sacrifice to a farm dispute.
The current EU-Russia Cooperation and Partnership Agreement will be automatically extended this year if neither side chooses to revoke it, but the absence of strategic partnership talks would be a heavy symbolic defeat for both sides.

Protests After Crackdown
The recent freeze in EU-Russia relations goes deeper, however. Russia's crackdown on opposition demonstrators in Moscow and St. Petersburg 10 days ago caused an outcry across Europe and Germany and the European Commission issued statements expressing "concern."
"We all know of course that the events in Moscow and St Petersburg the weekend before last have attracted a lot of media coverage, and not only that, but criticism from individual governments of [EU] member states," Steinmeier said, "you may also remember there was a [German EU] presidency statement -- this has all triggered a debate, which I have also acknowledged."
But Steinmeier restricted his further comments to noting that a Russian government spokesman had suggested the country's security apparatus may have overreacted.
Lavrov responded by offering an openly combative interpretation of Steinmeier's words. "I think [Steinmeier] said that freedom is about respecting the law," he said. "And in every normal country, the Russian Federation included, there are laws and rules regulating the realization by citizens of their constitutional rights, including the right to assembly and meetings."
Lavrov said protesters had been stopped when they overstepped the law, observing that the EU itself adheres to similar principles. No EU representative present at the press conference offered a rejoinder to this.
Lavrov raises his own human rights concerns when he noted that in Moscow's view the EU has failed to honor an earlier commitment to ensure better treatment for Russian-speaking minorities in Latvia and Estonia.
The Russian minister also offered an uncontested defense of Russia's record as an energy supplier, saying Moscow has never failed to honor a single contract with an EU country.
The German foreign minister highlighted the EU's limited room for maneuver when he said Russia remains an "indispensable" partner for the bloc in international affairs. As a permanent member of the UN Security Council, Russia wields enormous power on many crucially important issues for the EU -- among them the future of Kosovo, Iran's nuclear program, and the Middle East.
Russia And The EU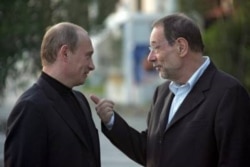 Russian President Vladimir Putin (left) with EU foreign policy representative Javier Solana in Sochi in May 2006 (epa)


A POLICY OF APPEASEMENT? Ralf Fuecks, head of the Heinrich Boell Foundation and a Green Party activist, spoke at RFE/RL's Prague broadcast center about the EU's complex relations with a resurgent Russia. RFE/RL President Jeff Gedmin moderated the discussion.
LISTEN
Listen to the entire briefing (about 60 minutes):

Real Audio
Windows Media
RELATED ARTICLES
Moscow Hosts PACE Standing Committee
Brussels Mulls Over Its Energy Sources
Council Of Europe 'Convinced' Of Chechnya Torture
ARCHIVE
RFE/RL's coverage of
Russia
.