Colorful and outspoken, Patarkatsishvili is a dominant presence among Georgia's influential personalities. But in late September, he made headlines as the man President Mikheil Saakashvili personally sought to "liquidate."

Such was the claim of former Saakashvili ally Okruashvili, who made his sensational accusations on Patarkatsishvili's Imedi TV, moments after announcing his move to the political opposition -- and two days before his summary arrest on corruption charges.

In Opposition, Or Not?

By early October, Patarkatsishvili's name was being spoken in a slightly different context. "The statement about his liquidation was intended to help him obtain political dividends," a downcast, shaken Okruashvili said in a videotaped retraction of his earlier allegations.

With his recantation -- and $6 million in bail -- Okruashvili earned release from custody. But the about-face sparked wild speculation about Patarkatsishvili's intentions. Stop playing politics behind the scenes, government officials said. Come out and make your intentions clear.

Pressing the point, pro-governmental media began an active campaign highlighting the businessman's "murky" past and dubious connection to opposition figures. His leadership of the Georgian National Olympic Committee was suspended; Saakashvili allies denounced his attempt to manipulate the political climate.

On October 10, Patarkatsishvili addressed his critics. Appearing as a guest on an evening program on his own Imedi TV, he suggested that circumstances might leave him little choice but to join the opposition.

"I see a precondition for this -- unfortunately. They keep calling upon me, from many different sides, telling me to emerge openly in politics," Patarkatsishvili said. "It has to be said, they have an exaggerated view about what I'm doing, thinking that I am indirectly involved in politics. It's groundless, but this is how they think, for some reason. And maybe this day will indeed come."

Made Name, Fortune In Russia

Patarkatsishvili, now in his early 50s, is a relative newcomer to the local limelight. Despite being born and raised in the capital, Tbilisi, he was virtually unknown to the Georgian public until 2000, the year he returned to the country after a lucrative decade in Russia.

Patarkatsishvili spent most of the 1990s amassing a fortune of dubious origin, often as the right-hand man of his then-associate, Boris Berezovsky. Patarkatsishvili managed financial matters for a number of Berezovsky's principal enterprises, including the LogoVAZ auto manufacturer, ORT and TV6 television networks, the oil giant Sibneft, and Aeroflot. His current personal fortune is a matter a wild speculation: estimates in 2000 ranged from $400 million to $9 billion.

Russian political observer Mark Urnov says Patarkatsishvili -- in contrast to his current comfort with publicity -- preferred to keep a low profile during his Russia years.

"He was always a somewhat shadowy figure, and has never been known to the broader [Russian] public. Businessmen knew him, the government of course knew him, but for the media he represented a person who remained in the background," Urnov says. "And I think this is the case to this day -- if you go out on the street and ask people who Berezovsky is, everyone will be able to answer. But I doubt anyone would be able to say who Patarkatsishvili is."

Closet Full Of Skeletons

The low profile, however, hasn't prevented Patarkatsishvili from being associated with a number of prominent scandals and unresolved crimes left over from the 1990s. Russia has put out several warrants for his arrest, including one tied to charges in 2001 that he organized an attempt by Nikolai Glushkov, Aeroflot's deputy director-general, to escape from police custody. He and Berezovsky were both named by the Russian media as potential suspects in the 1995 murder of ORT Director Vladislav Listyev, and for rumored murky dealings in Chechnya.

Patarkatsishvili has also raised eyebrows in recent months with his close ties to Andrei Lugovoi, the ex-KGB agent named by Britain as a primary suspect in the November 2006 murder of former Russian security officer Aleksandr Litvinenko. Lugovoi and Patarkatsishvili were seen socializing in Tbilisi just weeks before Litvinenko's poisoning in London; the two men describe each other as "friends" and "old partners."

When Patarkatsishvili returned to Georgia, he found a personal protector in then-President Eduard Shevardnadze, who repeatedly rejected Russian calls for the businessman's extradition. Patarkatsishvili quickly found a foothold in his homeland, forming the Imedi media holding (which worked as an afiiliate with RFE/RL's Georgian Service), buying up Black Sea coastline, and privatizing everything from circuses to funiculars and a massive wedding palace in Tbilisi.

Patarkatsishvili shored up his popular base with large-scale charity work and his highly publicized support of Georgian athletics and culture. He also enjoyed strong support abroad, bringing Rupert Murdoch's News Corporation in as a partner in Imedi. Additionally, he has repeatedly sought to present himself as having close ties to Israeli officialdom and the World Jewish Congress.

Clashes With New Government

Patarkatsishvili remained largely loyal to the Shevardnadze regime up to the start of the Rose Revolution, despite occasional backing of opposition parties. After 2003, Patarkatsishvili suffered no evident setbacks. His relationship with Saakashvili's administration may have lacked a certain harmony, but his investment and media activities continued apace, often with the approval of the government. Saakashvili's administration has taken strict measures to fight corruption, but Patarkatsishvili's activities have so far avoided suspicion or scrutiny.

That all changed in March 2006. Patarkatsishvili, who had risen to the presidency of the Federation of Georgian Businessmen (a post he resigned on October 11), threw down the gauntlet, accusing Georgian officials of authoritarianism and interfering with the country's business climate. The government instantly cried foul. Giga Bokeria, an influential lawmaker from Saakashvili's National Movement party, said Patarkatsishvili's allegations were nothing less than an attempt by "oligarchs, criminal bosses, and Moscow" to blackmail the Georgian government for failing to protect the business interests of a select, and unsavory, group.

"He said it directly, that the real reason of his discontent lies in the decisions of the Georgian government. The fact that he was unable to get privileges, suppress his rivals -- the fact that he did not become the Don Corleone of Georgian business," Bokeria said.

A year from now, Georgians will go to the polls in elections that will be largely seen as a validation, or rejection, of Saakashvili and his National Movement. Now, with Patarkatsishvili testing the political waters, some -- like Georgian commentator Ghia Nodia -- are speculating that the government may use the tycoon's shadowy past to dampen his appeal, and the massive power of his virulently antigovernment Imedi broadcaster, as a rallying figure for a broad spectrum of opposition groups.

"The government has already started, and will continue, to talk about Patarkatsishvili's moral and criminal past, and will stress the issue of the opposition's morality, on their opportunism rather than value-based thinking," Nodia says. "'Look what kind of person you're rallying around' -- that's what they'll be saying to the opposition."

Human Rights In Georgia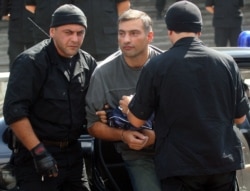 Georgian police arresting a suspect in September 2006 (InterPressNews)


NOT A ROSY PICTURE: Ana Dolidze, former president of the Georgian Young Lawyers Association and a visiting scholar at Columbia University, told an RFE/RL briefing that many obstacles remain before Georgia's courts and law enforcement organs will be able to ensure human rights.
LISTEN
Listen to the entire briefing (about 60 minutes):

Real Audio
Windows Media
RELATED ARTICLES
'Architect Of German Lustration' Discusses Georgian Archive
U.S. Official Discusses Rights Issues In Russia, Caucasus
Freedom House Sees Further Democracy Decline
Women's Rights Project Employs Film As Advocacy Tool
SUBSCRIBE
For a regular review of civil-society developments throughout RFE/RL's broadcast region,
subscribe to "RFE/RL (Un)Civil Societies."