Reader Comments Removed From Turkmen Government Website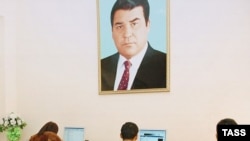 Turkmenistan's first Internet cafes opened in February (file) (ITAR-TASS) October 15, 2007 (RFE/RL) -- The Turkmen government's official website, Altyn Asyr (The Golden Age), has removed a feature that allows comments to be posted by readers.
On October 12 -- just two days after initiating the new feature -- it vanished from the Turkmen, Russian, and English versions of the website.
There was no explanation on the website about the removal of the responses by readers. Some 15 comments had been posted to the site before the feature disappeared.
Several of the comments offered mild criticism of former President Saparmurat Niyazov and one of them called on President Gurbanguly Berdymukhammedov to release all political prisoners held in Turkmen prisons.
The new feature was a big change in a country where the government strictly controls all media and public dissent is not allowed. Its removal will raise questions about the government's commitment to opening up the media situation in Turkmenistan.
The government website, which was launched about two years ago, features articles about the national and local governments, political and social events, and the meetings and foreign trips made by the president.
It can be found at turkmenistan.gov.tm