Tensions Mount Over Possible Turkish Incursion Into Iraq
October 15, 2007 (RFE/RL) -- This week, the Turkish government is expected to seek parliament's approval for a military operation into northern Iraq targeting Kurdish Workers Party (PKK) fighters blamed for killing more than 20 Turkish soldiers and civilians this month.
According to Sabar Qadir, a professor at Kouya University in Irbil, in Iraqi Kurdistan, any incursion by Turkish troops would be immediately confronted by Kurdish peshmerga troops, who as part of Iraqi Army are guarding the border.
Qadir admits that the Kurds have no chance of stopping the Turkish Army, but says the Turks would face guerrilla tactics. He says that most Iraqi Kurds support Iraqi Kurdish parties, but there is also sympathy among many people for the causes of Kurds living in Turkey, Syria, or Iran.
And he says the situation is heating up as Turkey continues shelling alleged PKK camps along the Iraq-Turkey border.
"They have many times within the two days bombed many places but it is in the mountains and there is not much information about it," Qadir says. "We don't know where they [PKK fighters] are, but some people say they have a camp in the mountains. That's why it is very difficult to see them or to know where they are. It is very difficult [for the Kurdish authorities] to make any operations against them in the mountainous regions."
Can Military Solution Work?
Qadir also says that though Turkey has been fighting against the PKK for about 20 years, it hasn't been able to wipe it out. He says that Turkey should look for a political solution, and he's not convinced Turkey really would launch a military incursion.
Serkan Demirtas, chief news editor of the "Turkish Daily" in Ankara, does not share this opinion. He says the PKK's activities in Turkey are pushing the government to take resolute actions.
"Of course there is an urgency in the fight against terrorism," Demirtas says. "Something should be done to crack down the terrorists who are killing a number [Turkish] troops maybe every day, or every week. So I think the government is very firm this time to take the step on the issue."
Demirtas says it is very likely that parliament will approve the incursion. A senior lawmaker from the ruling Justice and Development (AK) party, Sadullah Ergin, says the motion to the parliament is likely to be submitted this week.
U.S.-Turkey Tensions
However, the move might have political consequences. A Turkish move into Iraq could bring it into conflict with the occupying U.S. troops and draw the two NATO allies into conflict. U.S. officials warn that an incursion would be harmful for the whole region.
"There has to be a solution to the presence of terrorists elements, including the PKK, in those areas [northern Iraq]. U.S. Ambassador to the United Nations Zalmay Khalilzad put it this way in an interview with RFE/RL's Radio Free Afghanistan on October 12. "The best way to deal with this is through cooperation with the Iraqi [central authorities], and the regional authorities in the Kurdish region of Iraq, and with Turkey."
Demirtas says the Turkish government is consulting the United States about any incursion into Iraqi territory. He says there is "a very intense dialogue between Turkey and the United States on the matter and I know that there are some back-door channels between the two capitals between the two governments."
Turkish Prime Minister Recep Tayyip Erdogan said on October 12 that Turkey would be ready to pay the price if it chooses to invade Iraq. Erdogan said Turkey has long been seeking the cooperation of Iraq and the United States on the issue, but there has been no crackdown on the Kurdish rebels in Iraq.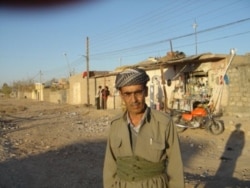 KURDISH AWAKENING: The ethnic Kurdish region in the northern part of Iraq has struggled in recent years to reestablish its cultural and political identity after decades of oppression under the regime of deposed Iraqi President Saddam Hussein. In December, RFE/RL correspondent Charles Recknagel traveled to this area and filed several reports:
Relative Peace Underscores Issue Of Kurdish Region's Future
Kurdish Culture Begins To Flourish In Kurdistan Region
Kurds Ponder How To Strengthen Autonomy After Elections