Belarus, Russia, and Uzbekistan all received poor rankings, while Turkmenistan again placed alongside Eritrea and North Korea among the world's worst three countries for press freedoms.
Elsa Vidal of RSF's European and post-Soviet countries desk told RFE/RL that Turkmenistan remains at the bottom of the list because fundamental democratic changes have not yet taken place there, despite hopes of liberalization following the death of President Saparmurat Niyazov in December 2006. Although some improvements have been noted, such as the opening of Internet cafes, Vidal said it is too early to tell whether predictions of improvements in Turkmenistan's rights situation will be borne out.
The World Press Freedom Index condemned Uzbekistan, ranked 160th on its list, for its continued imprisonment of journalists and human rights activists. Vidal noted cases of journalists forced to leave the country, and others who were released from jail only after renouncing their former activities and colleagues.
The report also cited Belarus, ranked 151st, as a major violator of media rights. Vidal noted the recent cases of opposition members and independent journalists who were detained to prevent them from taking part in, or reporting on, an opposition march held on October 14.
In Russia, Vidal said, "We have witnessed widespread violence targeting journalists, and actually impunity for those who take journalists as their targets." Moreover, "there is no possibility for the opposition to access national TV and national radio, except on Ekho Moskvy," which reaches only part of the population. Those factors account for Russia's ranking at 144th place, she said.
Meanwhile, the government of Azerbaijan has ceased cooperating with Reporters Without Borders, refusing to respond to the organization's questions, according to Vidal. "We are still asking for an explanation of the seven journalists who are still kept in jail, with false accusations against some of them just because they wrote articles that did not please the authorities," she said.
Elsewhere in the Caucasus, however, both Armenia and Georgia received improved rankings for making some progress in access to public information.
The RSF report notes an increase in online censorship, with bloggers in particular being targeted, stating that Internet activity is no longer ignored by repressive governments. China was censured for imprisoning at least 50 people for their online writings, while Vietnam and Egypt were also listed as cracking down on Internet dissent.
(Read the full text of RSF's Worldwide Press Freedom Index)

The Erosion Of CIS Press Freedom
The Erosion Of CIS Press Freedom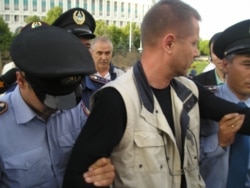 Prominent Kazakh journalist Sergei Duvanov being arrested in Almaty last month (RFE/RL)
FROM BAD TO WORSE. RFE/RL and Freedom House experts held a panel discussion at which they analyzed the erosion of press freedom in many CIS countries. According to Freedom House rankings, in 1994, six of the 12 CIS countries were rated "partly free"; by 2004, 11 of the 12 were rated "not free."
LISTEN
Listen to the entire briefing (about 70 minutes):

Real Audio
Windows Media
SUBSCRIBE
For regular news and analysis on media issues throughout RFE/RL's broadcast area by e-mail,
subscribe to "RFE/RL Media Matters."