Government spokesman Gholamhussein Elham said today that President Mahmud Ahmadinejad has accepted Larijani's resignation as secretary of the Supreme National Security Council.
He announced that Deputy Foreign Minister Said Jalili will replace him.
Curious Timing
It was unclear why Larijani resigned, although the timing of his departure raises questions about possible tensions with the fiery Ahmadinejad.
Following Russian President Vladimir Putin's visit to Tehran earlier this week, Larijani announced that the Kremlin leader had made a new proposal to break the deadlock over the nuclear crisis.
Larijani said the offer came during Putin's talks with Supreme Leader Ayatollah Ali Khamenei and that it would be carefully considered.
But President Ahmadinejad later was quoted as saying he knew of "no nuclear proposal."
Will Tehran Pursue Tougher Line?
Sadegh Zibakalam, a professor of political science at Tehran University, told Radio Farda that although he was seen as conservative, Larijani was known to have differences with the president. "From the very beginning there has been a kind of contradiction between Ali Larijani and Ahmadinejad regarding Tehran's nuclear case," he said.
"Mr. Ahmadinejad has been more drawn into a radical policy which is based on the ideological confrontation of the Islamic Revolution of Iran with the West," he added, "whereas Mr. Larijani had a more realistic view and believed that the nuclear program must not endanger Iran's national security."
Larijani took up the nuclear portfolio in 2005, after Ahmadinejad's election as president. He oversaw two years of sensitive talks with EU officials over Iran's nuclear program that ultimately proved inconclusive.
But Zibakalam told Radio Farda that Larijani's resignation could translate into a more radical Iranian approach on the nuclear issue. "It is still the Supreme Leader [Ayatollah Ali Khamenei] who has the last word in the nuclear case. But it is obvious that the leader does not make decisions in a vacuum," he noted.
"He consults with officials first. And the important point is that whenever the role of radicals becomes bigger in the atomic program, there is a higher possibility that the leadership might tend to take a more hard-line approach."
That remains to be seen. So far in public, Said Jalili has adopted much the same tone as his predecessor. In an interview with "The Boston Globe" last year he said Iran had no interest or intention of developing nuclear weapons, calling such a move "unhumanitarian, illogical, inefficient, and illegitimate."
Like all top Iranian politicians, he has steadfastly defended Tehran's right to develop civilian nuclear power.
Scheduled Talks With EU Unaffected
Larijani's resignation comes three days before the next scheduled round of talks between Iran and the European Union on the issue.
Both Iran and the EU have confirmed that Larijani's replacement will meet EU foreign-policy chief Javier Solana as planned on October 23 for more discussions about Iran's nuclear ambitions.
To date, the United Nations Security Council has imposed two rounds of sanctions against Iran over concerns that Tehran may use its nuclear program to develop a nuclear weapon.
The United States and its European allies are discussing a possible third round of sanctions if Tehran continues to refuse demands that it suspend uranium production.
Tehran says its nuclear efforts are aimed only at producing electricity for civilian purposes and it has continued to reject such demands.
UN Security Council permanent members Russia and China have so far not backed efforts to strengthen sanctions against Iran.
Battling Nuclear Proliferation
Battling Nuclear Proliferation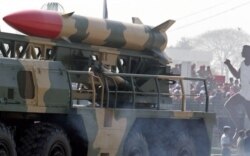 A nuclear-capable, short-range missile on display in Islamabad, Pakistan, in March (AFP)


IS PROLIFERATION INEVITABLE? On June 18, RFE/RL hosted a briefing featuring Henry Sokolski, executive director of the Nonproliferation Policy Education Center. Sokolski discussed the challenges to the global nonproliferation regime and what Western countries can do to strengthen it.
LISTEN
Listen to the entire briefing (about 60 minutes):

Real Audio
Windows Media
RELATED ARTICLES
El-Baradei Says Attack On Iran Would Be Catastrophic
Rogue Nuclear Programs Threaten New Arms Race
Why Shouldn't Pyongyang Join Nuclear Club?
U.S. Official Outlines Concerns About Iran's Nuclear Program