U.S. Secretary of State Condoleezza Rice and Treasury Secretary Henry Paulson announced the much-anticipated move at a news conference in Washington today. They said the administration of U.S. President George W. Bush had designated the IRGC as a proliferator of weapons of mass destruction and the Quds Force as a supporter of terrorism. They said the steps aimed to punish Iran for supporting terrorism in Iraq and the Middle East, as well as for its missile sales and nuclear activities.
Rice said Iran "continues to spurn our offer of open negotiations, instead threatening peace and security by pursuing nuclear technologies that can lead to a nuclear weapon, building dangerous ballistic missiles, supporting Shi'ite militants in Iraq, and terrorists in Iraq, Afghanistan, Lebanon, and the Palestinian territories." She added that Washington remains open to a "diplomatic solution."
Financial Pressure
The United States has long labeled Iran as a state supporter of terrorism. But the latest designations appear to be the first ever taken by Washington against a branch of the armed forces of a sovereign nation. The sanctions themselves will target more than 20 Iranian entities, including individuals and firms tied to the IRGC, so that they won't be able to work within the U.S. banking system. The U.S. Treasury previously had excluded two of Iran's biggest banks from conducting transactions in U.S. dollars. The new sanctions also will impact the international banking community, some of whose members have also taken steps to financially isolate Iran.
One effect of the moves may be to raise pressure on European countries to take unilateral sanctions of their own against Iran, which would build on recent steps in Germany, for example, to scale back the export credit guarantees it issues for trade with Iran. Britain's biggest bank, HSBC, said no dollar transactions are being conducted for Iranian clients and that its business links with Tehran are now minimal.
But what the moves might portend more generally -- whether they might hinder or hasten military conflict -- is set to remain at the center of a growing international debate over the coming weeks.
Paulson characterized the new sanctions as a logical step in a series of punitive measures taken recently by the international community to prevent Iran from mastering the techniques of uranium enrichment -- a key step in bomb-making. Iran says its nuclear program is peaceful and within its international rights, but the United States and other Western nations are convinced that it masks a secret drive to develop nuclear weapons.
"Iran exploits its global financial ties to pursue nuclear capabilities, develop ballistic missiles, and fund terrorism," Paulson said, adding that IRGC economic activities are so extensive that it is hard to know with whom one is doing business in Iran. "Today, we are taking additional steps to combat Iran's dangerous conduct and to engage financial institutions worldwide to make the most informed decisions about those with whom they choose to do business."
A Military-Industrial Conglomerate
The IRGC was founded after the 1979 revolution to protect the new Islamic establishment and prevent a military coup. Today, in its role as protector of the revolution, the IRGC has morphed into a huge military and economic conglomerate, with personnel in all the major state organizations. It is also heavily involved in Iran's oil industry, construction, and other key sectors.
It boasts its own military units with ground forces, navy, air force, intelligence, and special forces. The Quds Force is alleged to train and finance Hizballah in Lebanon, Hamas in the Palestinian territories, and Shi'ite militias in Iraq. Many IRGC veterans play a prominent role in government, including President Mahmud Ahmadinejad.
Rasool Nasifi, a Washington-based expert on Iran who has researched the IRGC, believes the new sanctions will be a blow to the organization's status, prestige, and economic activities.
"The movement of IRGC members abroad would become very, very hard -- especially in neighboring countries. They could easily be detained as terrorists," Nasifi told Radio Farda recently. "Secondly, because it is a large conglomerate with a tremendous amount of assets and is involved in business, it would not be able to do business with Afghanistan, with Iraq, with neighboring countries; and that's going to be another major issue. Thirdly, if you look at the fact that a large organization like that is put on the [U.S.] list of terrorist organizations and if Interpol accepts that, then it's going to be a major issue for the IRGC, as a legitimate Iranian institution."
Others, however, are more skeptical of U.S. motives.
Scott Ritter, a former United Nations weapons inspector in Iraq during the 1990s, was a critic of the Bush administration's pre-war claims about Baghdad's alleged threat. Ritter now believes that the new moves give Bush a freer hand to eventually take military action against Iran. "It frees the president up to strike the IRGC, and in doing so, to expand the strikes to include the nuclear infrastructure and other forces," Ritter told RFE/RL in an interview conducted prior to today's announcement. "Then, the president can claim that he's not waging war against Iran but only those rogue elements inside Iran."
In an interview with RFE/RL, Stuart Levey, who has led the Iran sanctions efforts as undersecretary for terrorism at the U.S. Treasury, flatly rejected that view. "We take action based on the evidence, not to somehow lay a pretextual groundwork for anything else," Levey said at RFE/RL's Washington headquarters on October 16.
The Iraq Connection
And what is the evidence? The U.S. military in Iraq has repeatedly accused elements connected to the IRGC of training and equipping Shi'ite militia forces in southern Iraq and elsewhere in that country. In particular, the accusations have focused on alleged Quds Forces assistance in training and equipping Shi'ite militias in the fabrication and battlefield use of Explosively Formed Projectiles or EFPs, which rip through tanks and armored cars and reportedly are responsible for most U.S. troop fatalities in Iraq this year.
Most analysts don't disagree that Shi'ite militants in Iraq have support from within Iran. Rather, the question is more about where that support may be coming from -- whether it can be clearly traced to the Quds Forces -- an organization controlled directly by Iran's senior political leadership, and which reportedly oversees the country's nuclear program -- or instead perhaps originates in "rogue elements" tied to the IRGC. Critics say the distinction is vital because it could mean the difference between eventual limited military action aimed at specific targets or a much broader attack perhaps aimed at regime change in Iran.
Speaking on September 27 in Baghdad, U.S. Brigadier General Kevin Bergner said it's clear who supports the so-called "special groups" -- the splinter Shi'ite militias blamed for many attacks on U.S. forces. The "Quds Force, along with Hizballah instructors, train approximately 20 to 60 Iraqis at a time [in Iran], sending them back to Iraq organized into these special groups." Bergner said. "They were being taught how to use EFPs, mortars, rockets, as well as intelligence, sniper, and kidnapping operations."
Michael Knights, a British analyst who has spent months studying the Shi'ite special groups in Iraq and their ties to Iran, believes IRGC support for them is obvious. He also believes drawing a fine distinction over whether that support is from Quds or the IRGC in general is beside the point. But he says the Bush administration's pre-Iraq intelligence record is now coloring perceptions of U.S. policy toward Iran.
"The understanding we have of the Iranian-backed special groups is of an order of magnitude or more beyond what we understood about the internal workings of the [Iraqi] Ba'athist regime," said Knights, who is the director of risk analysis and assessment at the Olive Group. "But no matter how much evidence you tend to adduce, you hit the credibility barrier. So that's the ultimate irony, which is that when you didn't know anything you were believed and wrong, and when you do know quite a lot, you are doubted, even though you are right."

Guardians Of Iran's Revolution?
Guardians Of Iran's Revolution?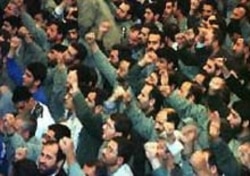 IRGC members at a speech by Supreme Leader Ayatollah Ali Khamenei (AFP file photo)
The Islamic Revolutionary Guards Force (pasdaran) was created in 1979 by the father of the Iranian Revolution, Ayatollah Ruhollah Khomeini, to safeguard that revolution.
The IRGC has several components whose numbers are widely disputed, but any serious estimates put their ranks at upward of 100,000. They operate independently or in cooperation with regular army forces.
President Mahmud Ahmadinejad reportedly served during the Iran-Iraq War as an instructor for the IRGC's volunteer-based Basij, a blunt official instrument to police moral values. IRGC allies form an influential segment of Ahmadinejad's power base.
Many of the most recent accusations emerging from the United States have involved the so-called Quds (Jerusalem) Force, whose responsibilities include extraterritorial operations that initially included efforts to export Iran's Shi'ite revolution. The Quds Force officially reports directly to the country's supreme leader, currently Ayatollah Ali Khamenei.
ARCHIVE
"U.S., Iranian Ambassadors Meet In Baghdad"
"Expert Discusses Iran's Quds Force And U.S. Charges Concerning Iraq"
"U.S. Alleges Iran Using Hizballah As 'Proxy' In Iraq"