Comments by politicians in Tehran indicate that Larijani was essentially forced to resign as secretary of the Supreme National Security Council on October 20 as he could no longer work with President Mahmud Ahmadinejad.
The departure of a prominent conservative politician from a key state position has been viewed by some as Ahmadinejad's latest attempt to strengthen his position inside the Iranian power structure. The fact that a close Ahmadinejad associate succeeded Larijani -- a political heavyweight and potential rival to the president -- lends weight to that hypothesis.
But it seems Ahmadinejad might have incurred the displeasure of Supreme Leader Ayatollah Ali Khamenei in his ousting of Larijani in favor of Said Jalili. And Khamenei holds ultimate political and religious authority in Iran.
Down But Not Out
In fact, Khamenei wasted no time in responding to Ahmadinejad's move, immediately naming Larijani his special representative to the talks on Iran's nuclear program, and Larijani was present at further talks with EU leaders in both Rome and Hamburg in the past week.

Larijani is a prominent member of what might be regarded as Iran's political family of traditional conservatives, and long described as close to Khamenei. Larijani also was Ahmadinejad's chief traditional-conservative rival in the first round of the presidential election in 2005. His appointment as secretary of the Supreme National Security Council may have been a compromise choice for a new president who faced pressure from the traditional-conservative camp.
His removal was described as badly timed and unnecessary by Ayatollah Khamenei's foreign affairs adviser, Ali Akbar Velayati. In a country where politicians very rarely criticize each other publicly, Velayati was unusually outspoken, telling ISNA that "it would have been better" for "officials" to use a little self-restraint and resolve their mutual differences privately at a time of great international pressure on Iran. He said "it would definitely have been better" if Larijani had not been replaced.
'Rise Of The Right-Wingers'
The reformist daily "Etemad" viewed Larijani's departure as a sign of the continuing decline of traditional conservatives and their increasing exclusion from key positions in favor of "radical" right-wingers allied with Ahmadinejad.
The daily added that Larijani had increasingly shown moderation and pragmatism in the nuclear discussions, and "this was precisely the spirit that clashed with the aggressive and radical spirit of" the president. The change, the daily noted, indicated "the real decline" of traditional conservatives, and it stated that administrative and government changes made so far by the president are "in line with the wishes of radical statesmen. Right now, statesmen who believe in diplomatic methods are losing their position."
Commentator Jafar Golabi wrote in the same paper that the "unification" of the ninth government -- meaning the exclusion of those who essentially disagree with Ahmadinejad's radical current -- had reached a "surprising" level: "experienced factions" in the country "no longer know what to expect or what the country's fate will be," he wrote.
In the press there has been -- as there often is with surprising developments -- a contrast between public postures of reassurance and more honest commentaries.
The pro-government daily "Iran" reported some of the reassuring statements on October 23. It quoted Mahmud Mohammadi, a member of the parliamentary National Security and Foreign Policy Committee, as saying that the Larijani dismissal had no effect on "national strategy." He said it was the "president's right as the head of the Supreme National Security Council to take decisions" on its personnel. Mohammadi said "we all have a duty" to back the president in his decision and "the Europeans" should interpret the appointment of diplomat Jalili as a sign of Iran's inclination to talk and negotiate, not of a hardening of positions.
The daily quoted Tehran-based academic Ibrahim Mottaqi as saying that the Europeans have "a pragmatic approach" and know they are dealing with institutions, not individuals. Another member of the parliamentary committee, Javad Jahangirzadeh, said that with Ayatollah Khamenei's "total familiarity" with the nuclear program, strategies are unlikely to change very much.
Larijani 'Too Popular'
The reformist daily "Etemad" reported an "extensive wave" of objections among legislators to the change on October 22. The parliamentary National Security and Foreign Policy Committee met in an extraordinary session on October 21, at which legislators expressed concern at the EU's possible negative reactions to the reshuffle, committee member Darius Qanbari said. He commented on the possible reasons legislators had cited in the meeting for the removal: Larijani was an expert on the nuclear issue, he said, and "paid little attention to the president's comments, and this...made the conditions for their continued cooperation difficult."
Others had spoken of an argument between the two at a meeting. Some said that "Ahmadinejad aides had warned" Larijani about his increasing "popularity" due to his perceived successful handling of nuclear negotiations.
Mohammad Reza Bahonar, the deputy speaker of parliament whom "Etemad" described as a supporter of Larijani in the 2005 elections who became an Ahmadinejad supporter in parliament, said on October 21 that Iranians' speculation on the matter was in line with Western wishes.
Perhaps for this reason, those involved in the discussion have sought to move on. The president told the press in Tehran on October 24 that Larijani had tendered his resignation many times before. Larijani told the press in Rome on October 24 that Iran is simply a democratic country where officials circulate between jobs, and voiced support for his successor.
But EU foreign-policy chief Javier Solana said after the talks in Rome with Jalili and Larijani that having too large a negotiating team could complicate the situation. He also stated that Larijani seemed more in charge of the negotiations.
Larijani Urged To Run For Election
In spite of public assurances, Larijani's removal is seen by some as a move by the president to further consolidate his grip within the executive branch, following several ministerial changes.
Ahmadinejad has shown he wishes to implement his own ideas, and prefers compliant administrators to dissenting specialists. The change also reveals some of the political workings of Iran's nomenklatura: it shows that offices or titles do not by themselves confer power. If you are pushy enough, you can get people out, and Ahmadinejad has just pushed a political veteran off of his chair.
If one perceives power in Iran to reside in shifting coteries and in perceptions of their power, then Ahmadinejad has for the past two years been placing his associates in key positions and forging his own coterie -- one he hopes will be seen as strong. But every maneuver prompts responses.
In addition to making Larijani his special representative to the nuclear talks, Khamenei has ensured that Larijani retains an institutional position as his representative on the Supreme National Security Council, as he did with his predecessor Hasan Rohani.
Khamenei may also be inclined more toward Ahmadinejad's political rivals -- the mainstream conservatives/political center that surround Ali Akbar Hashemi-Rafsanjani -- to ensure some equilibrium. The traditional conservatives themselves have been consulting in preparation for parliamentary elections set for March.
Larijani could return to electoral activity and compete against Ahmadinejad's radical conservatives in that context.
Deputy parliament speaker Bahonar said on October 25 that the "fundamentalists," or traditional conservatives, hope to make use of Larijani. "We are trying so that he will enter parliament, and we believe Larijani should be in parliament," ISNA quoted him as saying. Larijani may be down for now, but he certainly is not out as the battle between the supreme leader and the president continues.
Iran: Missiles And More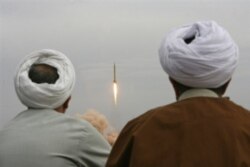 Iran tests its Shahab-3 medium-range missile in November 2006 (AFP)


HOW LONG A REACH? As the debate on missile defense sharpens, Tehran continues to develop its Shahab-3 missile, which is already capable of reaching some parts of Europe.... (more)
RELATED ARTICLES
Independent Nuclear Physicist Evaluates Iran's Nuclear Program
Iran Rocket Launch Another Show Of Prowess
How Close Is Iran To Getting Nuclear Bomb?
Iran's Super Weapons Claims Met With Skepticism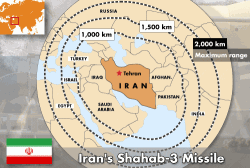 Click to enlarge the image.