Police in riot gear fired rubber bullets, water canons, and tear gas to clear an estimated 3,000 protesters from Rustaveli Avenue, the focal point of the 2003 Rose Revolution that swept President Mikheil Saakashvili into power.
Live television broadcasts showed numerous images of police -- some in riot gear, others dressed in black wearing masks, and others wearing yellow raincoats -- battling with rock-throwing protesters throughout the day and into the early evening.
One policeman was shown being beaten as he was absorbed into the crowd. Other footage showed police kicking and swinging batons at activists. Protesters were seen tending to their wounded as clouds of tear gas lingered in the air. Ambulances were shown winding their way through the chaotic scene.
Georgian Health Minister David Tkeshelashvili reported that 250 people had been hospitalized, most from tear-gas poisoning.
Parliament speaker Nino Burjanadze called on protesters and supporters of the government alike to back away from violence and allow room for negotiation.
"Today, all people who have a sense of responsibility -- whether they are our supporters or opponents -- should stay calm, maintain stability, remain in their houses, at their workplaces, and let us, politicians, find ways out of this difficult situation," she said. "I want to call on everybody, and especially on our supporters, to support us by staying calm, staying where you are, and not letting the conflict escalate."
Amid the violence, Georgia announced that it had recalled its ambassador from Russia "for consultations." Saakashvili has previously said the protests were the work of "dark forces," a reference to Russia, which has had troubled relations with Georgia in recent months.
Escalating Clashes
The police action began in the early-morning hours when a small group of protesters situated in front the Georgian parliament building were targeted. Baton-wielding police moved in to evict the group of about 100 people, including about 10 hunger strikers.
That action led to scuffles, and several opposition activists were detained.
Tbilisi Mayor Gigi Ugulava held a special news briefing this morning in which he said the authorities had made a "timely decision" to clear Rustaveli Avenue, where tens of thousands of protesters have assembled since November 2 to call for Saakashvili's resignation.
"I was listening to the protesters on television, who proudly declared that from today onward, Tbilisi would turn into a town of tents, and we prevented this from happening," Ugulava said. "Yes we did prevent this, primarily because this is what the law tells us to do, and also because this is in the interest of each of our citizens -- the legitimate wish that their city, and their country, is never again going to become a city of tents, [burning] tires, and sleeping bags."
But shortly after the area was cleared in the early-morning action, protesters and opposition leaders returned in the thousands to once again block the avenue.
Hundreds of riot police moved in, shouting warnings to protesters over speakerphones that "legal actions will be deployed against you" if they did not disperse. When protesters failed to heed the demand, police moved in.
Some protesters, including several opposition leaders, sought shelter in the parliament building.

Crackdown Condemned
Various opposition leaders have condemned the crackdown, including former Georgian Foreign Minister Salome Zurabishvili.
"Democracy is here on our side, and this government has shown by turning its army -- 1,000 people, this morning, who [were] covered in police uniforms -- turning them against hunger strikers, among them women," Zurabishvili said. "And if that is democracy, I think that we know better what democracy is, and we are asking Georgia's friends to be Georgia's friends and not Mr. Saakashvili's friends. He has shown today that he is a Bolshevik dictator."
Georgia's Road To The West
Georgia's Road To The West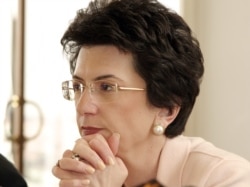 Georgian parliament speaker Nino Burjanadze giving a presentation at RFE/RL's Prague broadcasting center (RFE/RL)
BETWEEN RUSSIA AND THE WEST: Georgian parliament speaker Nino Burjanadze told an RFE/RL briefing that her country is under intense pressure from Russia.
LISTEN
Listen to the entire briefing (about 55 minutes):

Real Audio
Windows Media
RELATED ARTICLES
Georgian Speaker Reflects On Regional Relations
Is Putin's CFE Threat Aimed At The Caucasus?
EU Envoy Touts Georgian Confidence-Building Measures
SUBSCRIBE
For weekly news and in-depth analysis on Armenia, Azerbaijan, Georgia, and Russia's North Caucasus by e-mail,
subscribe to "RFE/RL Caucasus Report."