Speaking from Germany on the antigovernment Imedi TV, Irakli Okruashvili, a former defense minister, said that the embattled Saakashvili's days in power are numbered. The interview was broadcast in Tbilisi's main square, where thousands gathered today for a fifth day to protest what they call rampant corruption and economic mismanagement.
"[Saakashvili] will go down in history as the most unjust, as the most tasteless, as the most corrupt, and as the most violent president," Okruashvili said in Munich. "None of Georgia's presidents, even Eduard Shevardnadze, have gone down in history like this."
After the broadcast, Georgian authorities threatened to launch an international manhunt for Okruashvili, stating he is wanted at home on corruption charges. Okruashvili says he was sent into forced exile by the government last week. The authorities deny the charge, saying the former minister requested to be sent abroad for medical treatment.
Former Presidential Ally
A populist and once-close Saakashvili ally, Okruashvili shook up the country's political establishment in late September by accusing the president of ordering the murders of political opponents. Within days, he was arrested on corruption charges, only to be released later on bail after a televised retraction of his accusations.
But now, Okruashvili says the retraction was a result of pressure that he endured in prison. "All of those accusations, all of those facts that I brought against Saakashvili, everything I said about him is the plain truth," Okruashvili said.
With Saakashvili refusing to bow to the opposition's demands, some analysts say Okruashvili's return could revitalize the demonstrations, which have begun to lose steam.
Whether Okruashvili is acting alone, or has powerful backers, is still unclear.
Officials from the ruling National Movement party have said that business tycoon and Imedi TV founder Badri Patarkatsishvili -- who recently offered his financial support to the opposition -- was instrumental in securing Okruashvili's televised return.
Patarkatsishvili, who addressed the crowd on November 2, the first day of protests, has denied the allegations. But he praised Okruashvili's "courage" for "coming forward and telling the truth."
The media tycoon, who recently agreed to cede control of Imedi TV to Rupert Murdoch's News Corporation, has in the past claimed responsibility for bankrolling Georgia's 2003 Rose Revolution.
Now Or Never
Georgia-based political analyst Ghia Nodia says that the opposition thinks that it's a question of "now or never."
"The opposition really had a chance -- and maybe still does -- to strategically use the current circumstances, and become more powerful," Nodia says. "[It thinks it can] either make the government concede something now, or is defeated and discredited."
Saakashvili and representatives of the ruling party have said repeatedly that the main demands of the opposition -- early elections and the president's resignation -- are not going to be fulfilled. Parliamentary elections are scheduled for fall 2008.
Saakashvili has said the protests are the work of "dark forces," a reference to Russia, which has had troubled relations with Georgia in recent months.
Russian Foreign Minister Sergei Lavrov hit back today, describing Saakashvili's comments as a "farce."
The opposition itself says it favors Georgia's integration into Euro-Atlantic institutions, but some of its members -- notably Patarkatsishvili -- take issue with Saakashvili's stridently anti-Moscow stance.
The protests are the biggest in Georgia since the Rose Revolution brought the pro-Western Saakashvili to power four years ago.
(RFE/RL correspondent Salome Asatiani and RFE/RL's Georgian Service contributed to this report.)
Georgia's Road To The West
Georgia's Road To The West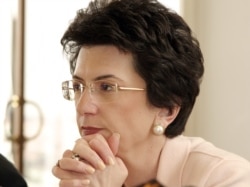 Georgian parliament speaker Nino Burjanadze giving a presentation at RFE/RL's Prague broadcasting center (RFE/RL)
BETWEEN RUSSIA AND THE WEST: Georgian parliament speaker Nino Burjanadze told an RFE/RL briefing that her country is under intense pressure from Russia.
LISTEN
Listen to the entire briefing (about 55 minutes):

Real Audio
Windows Media
RELATED ARTICLES
Georgian Speaker Reflects On Regional Relations
Is Putin's CFE Threat Aimed At The Caucasus?
EU Envoy Touts Georgian Confidence-Building Measures
SUBSCRIBE
For weekly news and in-depth analysis on Armenia, Azerbaijan, Georgia, and Russia's North Caucasus by e-mail,
subscribe to "RFE/RL Caucasus Report."