The visit by Deputy Assistant Secretary of State Matthew Bryza comes as representatives of the Georgian government and the opposition met for the first time since police crushed antigovernment protests this week and President Mikheil Saakashvili imposed emergency measures.
Bryza told RFE/RL's Georgian Service on November 9 that lifting the state of emergency is essential in the weeks ahead of Georgia's early presidential election.
"My message is Secretary of State [Condoleezza] Rice's message, which is, we call for an immediate lifting of the state of emergency and restoration of all media broadcasts," he said. "Precisely because we know these are essential steps to ensure that the elections announced by President Saakashvili are free and fair."
Bryza, who spoke by phone from Washington, is to meet with Saakashvili and members of the opposition during his visit to Tbilisi.
Compromise Could Save Democracy
Bryza said he will urge a compromise. "Democracy can be saved in Georgia if responsible leaders of both the opposition and the government sit down together in a spirit of compromise and in a spirit of friendship that has long governed their relations and chart out concrete steps to strengthen democratic institutions in Georgia. That's how you restore democracy," he said.
The head of the Georgian Orthodox Church, Patriarch Ilia II, chaired the meeting between the opposition and the government at his residence in Tbilisi. The government was represented by parliament speaker Nino Burjanadze. Reports said the main opposition leaders attended the meeting. No further details were immediately available.
Meanwhile, Matyas Eorsi, rapporteur for the Monitoring Committee of the Parliamentary Assembly of the Council of Europe (PACE), met with government officials and opposition leaders in the capital.
Speaking to RFE/RL's Georgian Service, Eorsi said he believes authorities need to understand the "possible international consequences" of the emergency rule. "We were promised that it will be very short. We didn't get any specific promise whether it should be lifted in one, two, or three days. But it certainly will not last for the constitutionally permitted 15 days. I told them that every day is an extra damage. And I'm sure that they understood this," he said.
Concerned reactions poured in from the European Union, the Council of Europe, NATO, the United States, the Organization for Security and Cooperation in Europe, and the UN High Commissioner of Human Rights. There was worry the events called into question Saakashvili's commitment to democratic principles.
On November 9, lawmakers approved the 15-day state of emergency that Saakashvili had declared two days earlier. But the head of Georgia's presidential administration, Ekaterine Sharashidze, said the emergency measures could be lifted before the November 22 deadline because the situation has "stabilized."
Continued Pressure On Opposition Financier
In another development, the pressure was stepped up on the opposition's main financier, businessman Badri Patarkatsishvili, who co-owns the main opposition broadcaster, Imedi.
The Prosecutor-General's Office said it suspects Patarkatsishvili of plotting a coup and wants him for questioning. Patarkatsishvili is currently in London.
Patarkatsishvili has said he intends to run for president.
On November 8, Saakashvili announced presidential elections would be held on January 5, 2008, instead of in the fall of next year as previously planned.
Early elections were one of the main demands of protesters.
Georgia's Road To The West
Georgia's Road To The West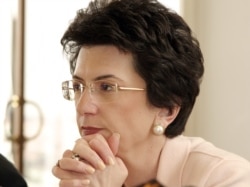 Georgian parliament speaker Nino Burjanadze giving a presentation at RFE/RL's Prague broadcasting center (RFE/RL)
BETWEEN RUSSIA AND THE WEST: Georgian parliament speaker Nino Burjanadze told an RFE/RL briefing that her country is under intense pressure from Russia.
LISTEN
Listen to the entire briefing (about 55 minutes):

Real Audio
Windows Media
RELATED ARTICLES
Georgian Speaker Reflects On Regional Relations
Is Putin's CFE Threat Aimed At The Caucasus?
EU Envoy Touts Georgian Confidence-Building Measures
SUBSCRIBE
For weekly news and in-depth analysis on Armenia, Azerbaijan, Georgia, and Russia's North Caucasus by e-mail,
subscribe to "RFE/RL Caucasus Report."