As voters go to the polls, uncertainty remains over the participation of the breakaway province's Serbian minority.
The head of the United Nations Interim Administration Mission in Kosovo (UNMIK), Joachim Ruecker, said on November 15 he had "concerns that undue pressure has been exercised on the voters within the Kosovo Serb community not to participate" in the upcoming general elections.
The upcoming elections are likely to raise political tensions in the region as Kosovo is trying to secure independence from Serbia in internationally mediated talks.
"Actions by certain Kosovo leaders and statements by officials in [Serbia's capital] Belgrade amounting to such pressure have been documented and are strongly deplored," Ruecker said in an address to the Permanent Council of the Organization for Security and Cooperation in Europe (OSCE).
Ruecker told the OSCE's 56 ambassadors that on October 6 he wrote to Serbian Prime Minister Vojislav Kostunica "asking for his cooperation on ensuring that all [Kosovo] communities will be able to exercise their right to vote freely."
"I have not received a reply yet," the UN envoy said.
Serbia's Kosovo Minister Slobodan Samardzic last week said Belgrade could not possibly urge Kosovar Serbs to take part in ballots which he said "will legitimize institutions that will declare independence tomorrow." He also invoked the possibility that the votes of Kosovar Serbs could be manipulated.
Electing The Assembly
Already four ballots have taken place in the predominantly ethnic Albanian province since it was put under UN administration in 1999 following NATO's intervention to stop Serbian atrocities against ethnic Albanians.
Voters will elect their mayors and their representatives to the province's local councils and national legislature, known as the Assembly (Kuvendi in Albanian, Skupstina in Serbo-Croatian). It is the Assembly that elects the province's president.
One hundred members of the Assembly are elected by proportional representation. The remaining 20 seats are reserved to represent the province's Serbian, Bosnian, Turkish, and Romany minorities.
An open list system, which allows voting for specific candidates rather than just for a party, is being introduced for the first time.
One of the two main players in the electoral race is President Fatmir Sejdiu's Democratic League of Kosovo (LDK), which has a majority of seats in the outgoing legislature. The LDK is the party of late Kosovar Albanian President Ibrahim Rugova. It has been controlling the province's political life for more than a decade.
Its main challenger is Hashim Thaci's opposition Democratic Party of Kosovo (PDK), which currently holds 30 seats in the Assembly. Opinion polls show the PDK is likely to grab a majority of seats in the legislature.
A former leader of the Kosovo Liberation Army, Thaci is a member of the so-called Team of Unity, which is negotiating Kosovo's future status with Serbia under the aegis of the international community. He has described Kosovo's independence as a "done deal."
Experts say that the composition of the Assembly will not substantially change Kosovo's stance on independence.
Political Limbo
Despite international diplomatic efforts, Kosovo remains in political limbo, with Belgrade ruling out independence for its breakaway province.
A troika made of representatives of the European Union, Russia, and the United States is overseeing current talks on the province's future status.
Although the troika process is due to be completed on December 10, it has made little progress so far. The United States has strongly advocated independence, while Russia has vehemently opposed it.
The troika's EU representative, Wolfgang Ischinger, said this week the group would present a proposal on "neutral status" for Kosovo at a next round of talks to be held in Brussels on November 20. The aim, he said, would be to "normalize relations between Serbia and Kosovo, without containing a single word on status."
Pristina and Belgrade have both rejected the proposal as unacceptable.
Ruecker told the OSCE on November 15 that he continues "to have faith in a positive outcome" of the troika process. But he said the international community should be prepared to address a situation in which the sides are unable to reach an agreement.
"Even if no agreement is reached, clarity on Kosovo's future will have to be forthcoming," he said, adding: "The status quo is not tenable."
Time is running out to find an agreed solution. And so is the patience of some Kosovar Albanian leaders.
Prime Minister Agim Ceku has indicated that the province might unilaterally declare independence if no negotiated solution is reached by December 10.
Some political observers in Kosovo have said they believe those renewed calls for independence are linked to the upcoming ballots and there have been heated debates in and outside the province on the value of holding general elections while its status remains unclear.
Some political leaders wanted the ballots to be held after Kosovo becomes independent. Others argued that any delay might undermine the legitimacy of the current Assembly.
Ruecker told the OSCE's Permanent Council he believed the November 17 elections will help "re-legitimize" Kosovo's institutions.
He also said that provided they are not used as a pretext to further delay negotiations on the province's future status, the upcoming polls should be "very beneficial to democracy in Kosovo."
Final Status For Kosovo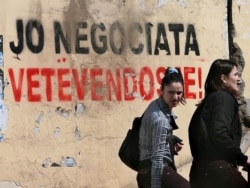 Pro-independence graffiti in Prishtina (epa)

FINALLY STATUS? Sabine Freizer, director of the Crisis Group's Europe Program, told an RFE/RL briefing that deep divisions in the UN Security Council make it uncertain what form Kosovo's future status might take.
LISTEN
Listen to the entire briefing (about 70 minutes):

Real Audio
Windows Media
ARCHIVE
RFE/RL's coverage of
Kosovo
. The website of
RFE/RL's South Slavic and Albanian Language Service
.