Niyazov, who ruled the energy-rich state for more than 20 years, is thought to have controlled Turkmenistan's billions of dollars in natural-gas revenues in foreign banks.
But it remains unclear where this money is and who controls it, and some experts say Turkmenistan's new leadership has no interest in pursuing the issue.
Energy Riches
Turkmenistan, which sits on one of the largest natural-gas reserves in the world, earns some $5 billion a year from gas exports. But nearly 60 percent of the population lives in poverty, according to the World Bank, and the public has no information about where the proceeds from lucrative international contracts for energy are going.
Global Witness, a London-based international watchdog, says that under Niyazov, the Turkmen government's accounts in just one bank, Deutsche Bank, contained $3 billion.
Tom Mayne, a Central Asia campaigner for Global Witness, tells RFE/RL that gas revenues were directly controlled by Niyazov and used for his personal enrichment.
Mayne says his organization has pursued the transparency of Niyazov's foreign accounts and the return of that money to Turkmenistan where it could be used to improve people's living conditions.
"It is important because this is money that belongs to the Turkmen people," Mayne says. "This is the money earned from the sale of Turkmenistan's natural resources, oil and gas. We believe it was put in the offshore accounts and -- though under the control of the Turkmen Central Bank -- it was actually, de facto, controlled by the president and he was using it to construct the personality cult that was so famous in Turkmenistan instead of the money going to the people."
Off-budget
The first information about Turkmenistan's gas money leaked to the press last year when "Der Spiegel" reported in April on a Turkmen-Ukrainian gas deal. The 2001 contract defined the terms to deliver Turkmen gas to Ukraine over a five-year period and was expected to generate nearly $1.7 billion the following year.
Mayne says the revenues were to be transferred to the Central Bank of Turkmenistan's oil/gas development fund and its foreign exchange fund accounts in Deutsche Bank's branch in Frankfurt.
The same year, the European Bank for Reconstruction and Development warned that the Turkmen central bank's funds were under the "discretionary control of the president without appropriate regulation and transparency."
Global Witness published a report in April 2006 that said a "significant portion of revenue never finds its way into state coffers" and alleged that Niyazov parked much of the money in foreign bank accounts under his direct control. "A horrifying 75 percent of the state's spending...appears to take place off [the government's] budget," the report said.
Shortly after Niyazov's death in December 2006, Global Witness urged the new Turkmen leadership to be transparent about the issue.
But Mayne says that neither the new Turkmen leadership nor other governments are demonstrating a willingness to publish information.
Earlier this year, President Gurbanguly Berdymukhammedov called for the audit and abolition of the International Fund of Saparmurat Niyazov, which was set up in 1993. But the results of the audit -- if it has been conducted -- have not been made public. Mayne says it is not clear whether the fund had accounts in Turkmen or foreign banks, or in both.
German Probe
Success in gaining information about Niyazov's accounts depends not only on the Turkmen government but also on German authorities.
Leaders of the exiled opposition Republican Party of Turkmenistan wrote in December to German Chancellor Angela Merkel, demanding an "official investigation" into Deutsche Bank's role in the former president's funds.
Global Witness called on Germany to ensure that the questions about German banks' dealings with Turkmenistan become transparent.
In January, the German banking regulator BAFIN said that it had performed a "spot test" on the alleged Turkmen accounts, and stated that Deutsche Bank was acting in accordance with German-banking regulations.
Following that, Deutsche Bank admitted only that it holds accounts for the Central Bank of Turkmenistan and denied managing any personal accounts for Niyazov.
Global Witness said the conducted probe was not enough and called for a "full investigation."
Mayne says the German government has avoided digging deeper on the issue in order to "not upset its applecart" in the energy game it has been pursuing in Central Asia and therefore "does not bring issues of human rights and good governance to the table."
'Lip Service'
Andrei Grozin, a Central Asia expert at the Moscow-based Institute of the CIS, believes Berdymukhammedov has control over Niyazov's money now and therefore is not interested in divulging information about Turkmenistan's international financial transactions.
"The country's current leadership, first of all, is not interested in shedding light on how the money was moved and where it went during Niyazov's rule," Grozin says. "On the other hand, there is likely a consensus [to not disclose information about those accounts] between the current Turkmen leadership and the owners of those Western [banks] where the money went. It is clear that there is not much money in the country."
Annadurdy Hajiev, a former deputy chairman of the Central Bank of Turkmenistan and an exiled opposition member, calls Berdymukhammedov's statements on conducting an audit and combating corruption "lip service."
He says in a country without the rule of law, criminal cases about corrupt officials come only after the president points a finger at someone suspected of corruption and gives the personal order to launch an investigation. Hajiev says Berdymukahemmdov is himself not held accountable for his expenses.
"If Berdymukhammedov wants [real changes], he must start with himself," Hajiev says. "Turkmenistan's budget should have a separate line that reads 'Expenses of the President' as it is done in other countries. If this is not practiced, then [the questions persist about] what does a presidential family live on, on what money does it survive. Everything that the president does for his children, for his family, must be transparent."
More Flashy Spending
Experts question not only Berdymukhammedov's willingness to put attention on Niyazov's hidden treasure, but also if some of the flurry of international contracts that his government has signed are actually necessary.
In early September, Berdymukhammedov awarded a contract to French construction firm Bouygues to design the seaport and a new airport in the city of Turkmenbashi on the Caspian seashore. Under Niyazov, Bouygues constructed a presidential palace, ministry buildings, banks, theaters, museums, as well as many empty showcase hotels in Turkmenistan in projects exceeding $1.5 billion altogether.
The most striking of the new projects is a billion-dollar project on the Avaza tourist zone on the Caspian shore that is expected to include 60 hotels, five sanatoriums, four health centers, and other facilities.
Farid Tuhbatullin, who heads the Turkmenistan section of the International Helsinki Foundation for Human Rights, says such projects will be just another burden on the Turkmen budget. He says the Turkmen people will not be able to afford to go to Avaza, while few foreigners are likely to go to a remote Turkmen Caspian shore due to extremely poor air connections.
The Avaza project is similar to Niyazov's many eccentric ideas that included dozens of huge but mainly vacant hotels in the country's capital, the country's biggest mosque in Turkmenbashi's native village, and even an ice palace in the desert, Niyazov's dream that he was unable to realize before his death.
Global Witness and other observers say they want such grandiose spending on unimportant projects to be a thing of the past, and for the money left over from those days to be used for more practical things for the largely impoverished Turkmen people.
(RFE/RL's Turkmen Service correspondent Altyn Magauina contributed to this report)
Turkmenistan's Presidential Election
Turkmenistan's Presidential Election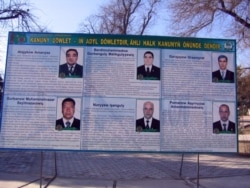 A billboard in Ashgabat with portraits of the candidates in the February 11 election (OSCE)


SIGNS OF CHANGE? Reporters Without Borders analyst Elsa Vidal and RFE/RL Kazakh Service Director Merkhat Sharipzhanov led an RFE/RL briefing in Prague about the significance -- or lack thereof -- of Turkmenistan's first-ever competitive presidential election.
LISTEN
Listen to the entire briefing (about 60 minutes):

Real Audio
Windows Media
RELATED ARTICLES
Could Presidential Vote Open New Chapter?
Sorting Out The Presidential Candidates
Presidential Campaign Reflects Latent Social Tensions
Campaign Opens With Surprising Promises Of Reform
ARCHIVE
RFE/RL's coverage of
Turkmenistan
.