In an exclusive interview with RFE/RL's Georgian Service correspondent Koba Liklikadze, Burjanadze told RFE/RL that she regrets that the country is once again in turmoil, and has hope that Georgian politics will normalize soon.
Burjanadze became Georgia's acting president after Mikheil Saakashvili stepped down on November 25 ahead of early presidential elections, as required by law.
Assuming the duties of the Georgian presidency is nothing new for the 43-year-old Burjanadze. In 2003, she became Georgia's acting president after the Rose Revolution and Eduard Shevardnadze's resignation.
"Both times, I had to assume [the] president's duties during a decisive time for the country's development," she told RFE/RL. "I hope that finally, such historic stages and decisive elections will be over, and the country will embark on a normal electoral cycle, once and for all."
'History Will Judge'
The country has just emerged from a nine-day state of emergency, triggered by opposition protests that were forcibly crushed by members of the Georgian special forces.
The government was not wrong to use force to crack down on opposition protests on November 7, Burjanadze said. The crackdown, which saw members of the military using tear gas, rubber bullets, and water canons to disperse anti-government protesters, led to a state of emergency and the scheduling of early presidential elections.
The protests, Burjanadze said, carried a risk of escalation, because some of the opposition leaders were not interested in reaching a compromise and were calling for overthrow of the government.
She added that only history can judge whether the use of force to prevent such risks was justified on that day.
Asked about the fate of pro-opposition television station Imedi TV -- which was forcibly closed down amid the violent clampdown on protests on November 7 -- Burjanadze said Imedi TV will be allowed back on air only after it can guarantee that it will no longer be used as a "weapon" by its founder, business tycoon and presidential candidate, Badri Patarkatsishvili.
"We have only one task, and it is to make sure that neither Imedi, nor any other media outlet, is used as a weapon for disseminating calls to violence, as [a] weapon in the hands of one specific political group which will try to use it to destabilize the state," she said.
Georgian authorities have blamed Russian intelligence services for orchestrating the opposition rallies in Tbilisi and several opposition leaders have been accused of collaborating with the intelligence services.
Russia steadfastly denies any involvement. Burjanadze told RFE/RL that the country's prosecutors have already produced some evidence, and will likely provide more, to support that charge.
Russia's Hopes, Georgia's Fears
However, when it comes to Russia's general intentions towards Georgia, Burjanadze says the proof is already there.
"Now, I do not think that in Georgia you can find even a child who does not feel what Russia wants in Georgia," she said. "How Russia wants the situation to destabilize in Georgia, how important it is for Russia, that instead of having a strong government -- which would speak to Russia from the position of an equal -- Georgia would have a weak government that has to focus on internal problems, and does not have time for Abkhazia, [South] Ossetia, NATO, and so on."
Burjanadze acknowledged that the weeks between now and the January 5 presidential elections will not be easy.
She vowed to do everything possible to help Georgia continue on its present political course and to ensure that Georgia's citizens will vote in free and fair elections.
"I'll be completely frank with you and say that I fully support Mikheil Saakashvili in becoming president for a second term. He did extremely difficult, unthinkable things for this country. The reforms which took place -- of course they weren't faultless, and nobody would have done them in a faultless way," Burjanadze said.
She added, "Moreover, I am confident that no one, including myself, would have succeeded in introducing those radical reforms which took place in this country. This is my honest [position], and I think it would be difficult to argue against it."
Georgia's Road To The West
Georgia's Road To The West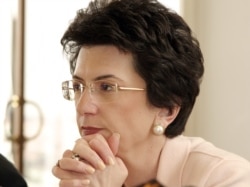 Georgian parliament speaker Nino Burjanadze giving a presentation at RFE/RL's Prague broadcasting center (RFE/RL)
BETWEEN RUSSIA AND THE WEST: Georgian parliament speaker Nino Burjanadze told an RFE/RL briefing that her country is under intense pressure from Russia.
LISTEN
Listen to the entire briefing (about 55 minutes):

Real Audio
Windows Media
RELATED ARTICLES
Georgian Speaker Reflects On Regional Relations
Is Putin's CFE Threat Aimed At The Caucasus?
EU Envoy Touts Georgian Confidence-Building Measures
SUBSCRIBE
For weekly news and in-depth analysis on Armenia, Azerbaijan, Georgia, and Russia's North Caucasus by e-mail,
subscribe to "RFE/RL Caucasus Report."