Putin's signature puts the finishing touch on a process he initiated in July, when he issued a decree announcing Russia's intention to halt its observance of the treaty after a 150-day waiting period.
Both houses of parliament rubber-stamped the president's bill earlier this month, allowing the bill to be signed into law. In a short statement today, the Kremlin announced simply that "President Putin signed the federal law on suspending the Conventional Forces in Europe Treaty."
The suspension will go into effect on December 12, freeing Russia to deploy additional conventional heavy weaponry such as tanks, artillery, and aircraft on its territory west of the Ural Mountains.
U.S. and EU officials participating in the OSCE ministerial conference in Madrid had made last-ditch attempts to persuade Moscow not to suspend its participation in the CFE.
"We don't believe any country should walk out of a major, landmark European arms treaty unilaterally," U.S. Undersecretary of State for Political Affairs Nicholas Burns said during a news conference.
Portuguese Foreign Minister Luis Amado, whose country currently holds the rotating EU Presidency, expressed the EU's "deep concern over the emerging uncertainties about the future viability of the treaty."
Cold War Relic
Russian officials have characterized the treaty as a Cold War-era relic that has lost its relevance in today's global situation.
After the Federation Council, Russia's upper house of parliament, unanimously approved the CFE bill on November 16, Foreign Minister Sergei Lavrov said that Russia sought to "restore strategic stability and the military and political balance on the European continent."
"We expect a reaction that would allow putting arms controls in Europe in order," Lavrov said. "This can be done only by adopting an agreement on adjusting the Conventional Forces in Europe treaty and, in general, by modernizing what is a hopelessly outdated [arms control] regime."
The CFE treaty took NATO and the Warsaw Pact 10 years to negotiate, and came into force in 1992. It set limits on each bloc's deployment of weaponry between the Atlantic Ocean and the Urals and provided for regular mutual inspections.
Following the breakup of the Warsaw Pact, a new agreement, dubbed the CFE II, was negotiated in Istanbul in 1999 to reflect the new post-Soviet landscape by setting arms limits for individual countries.
Russia and three other postcommunist states -- Ukraine, Kazakhstan, and Belarus -- signed and ratified the CFE II treaty. But while signing and complying with the new treaty's provisions, individual NATO states have made clear that they would not ratify it until Moscow complied with commitments it made in Istanbul to remove its troops and equipment from Georgia and Moldova.
That has been the main point of disagreement between Moscow and NATO ever since, and led Putin to issue a decree in July announcing Russia's intention to suspend participation in the original CFE treaty.
The move helped cement the Kremlin's position vis-a-vis the West as it openly feuded with the United States and the European Union over a proposed missile-defense shield in Central Europe, NATO expansion, and the future status of Serbia's Kosovo province.
The Kremlin's tough stance against Washington and Brussels has proved to be an immensely popular move during election season. Citizens of Russia will vote in State Duma elections on December 2 and in presidential elections on March 2.
Conventional Forces In Europe
Conventional Forces In Europe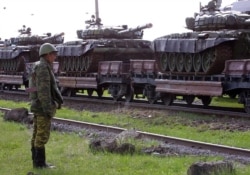 A Russian soldier watching Russian armaments leave Georgia in 2006 (epa)


AGREEMENTS ON CONVENTIONAL FORCES IN EUROPE. The CFE treaty is an arms-control agreement originally negotiated between NATO and the Warsaw Pact as a guarantor of European security in Europe in the waning days of the Cold War.

The original CFE Treaty took 10 years to negotiate, was signed by 30 states ** in November 1990, and came in to force in 1992. Its aim: to reduce stockpiles of conventional armaments between the Atlantic Ocean and the Ural mountains.
The blocs limited themselves to:
20,000 tanks
20,000 artillery pieces
30,000 armored combat vehicles
6,800 combat aircraft
2,000 attack helicopters

The CFE-1A, a 1992 addendum, has resulted in the withdrawal of more than 700,000 troops from Europe since 2001 and the destruction of 50,000 pieces of military equipment by 1995.
The CFE-II, negotiated in Istanbul in 1999, reflected the new, post-Soviet landscape by setting arms limits for individual countries, rather than zones. The agreement aided NATO's expansion efforts by allowing signatory states to allow foreign forces on their soil.
NATO states have not ratified the CFE-II due to concerns over Russia's failure to comply with commitments it made during the negotiations. Under the Istanbul Accords, Russia pledged to set a timetable for closing its remaining military bases in Georgia and to completely withdraw its forces from Moldova.
The CFE-II will come into force once ratified by all 30 CFE signatories. Thus far only Belarus, Kazakhstan, Russia, and Ukraine have ratified the CFE-II.
In ratifying the agreement in June 2004, Russia called on the signatories not to delay in ratifying the document. Russia expressed concern that Lithuania, Estonia, and Latvia, as nonmembers of the treaty, could possibly harbor NATO troops near its western border.
(** Armenia, Azerbaijan, Belarus, Belgium, Bulgaria, Canada, Czech Republic, Denmark, France, Georgia, Germany, Greece, Hungary, Iceland, Italy, Kazakhstan, Luxembourg, Moldova, the Netherlands, Norway, Poland, Portugal, Romania, Russia, Slovak Republic, Spain, Turkey, Ukraine, the United Kingdom, and the United States. )